Genres:
Christian Fiction
,
Christian Historical Fiction
,
Historical Fiction
What made you interested in writing Christian Historical Fiction? Do you write any other genres?
When I was a young girl, I spent my summer vacations with my grandmother who lived in the mountains of Kentucky. Granny and I would sit in the porch swing braking beans or shelling peas for supper, and she would tell me happenings. One event concerned the loss of a baby during a terrible flash flood on Frozen Creek. The baby was never found.

I'm sure you can imagine how that story stirred my eight-year-old heart and why I could never forget what Granny told me. About 50 years later, I began to think about that baby yet again. Who would she be if she had grown up? What would she have done with her life? The first words to my first novel, Troublesome Creek, came to me while I was in the drive through at McDonalds. I wrote them on a napkin. Through many edits they have never changed. "Girl! You'd better get to the house. If your Mam catches you in that creek again, she'll skin you alive!"

And so my protagonist, Copper Brown, was born from my heart's yearning to give meaning to the baby lost so many years ago. I wasn't writing for a specific market or genre. The story placed itself. My other books have followed suit. I'm a born again Christian and I naturally include my faith in my writing.

I haven't written in another genre, but I'd love to try romance.
Are there any other Christian Fiction authors that you think your readers would enjoy?
So many come to mind, but three of my favorites are Ann H. Gabhart, Virginia Smith, and C.J. Darlington.
Are there bits and pieces that were cut in editing that you might ever share with your readers?
In one of my books a dog could "talk." My editor convinced me that it wouldn't work. I rewrote the scene and found she was right. It read much better if the dog just barked in dog language. (Smile.) But, someday, I'm going to write a book featuring a "talking" dog. It will probably sell a million copies.
Is the Skip Rock Shallows Series for those who loved romantic comedy?
My books certainly contain both romance and humor, but they are not typical romances. Skip Rock Shallows revolves around Lilly Gray Corbett, a young woman who has just graduated from medical school. Lilly becomes the only doctor in a coal camp in Kentucky in 1908. Lilly has her life's path all figured out.  She'll finish her residency in Skip Rock and then move on. Her fiancé is also a doctor. They plan to marry and then go into practice at the renowned Hamilton Hospital in Boston owned by his family. Of course, life intervenes, and nothing turns out as she had planned, especially in the romance department.
What is your favorite scene from Skip Rock Shallows?
I loved writing the scene in which the miner who is trapped by a cave in is saved both spiritually and physically. Also, I love the very last scene. I won't say what it is and spoil the book for the reader, but I will say if you are reading for romance, this scene completely satisfies.
How would you relate your writing experience and research to some Creative Madness?
Oh, goodness gracious, every writing experience is Creative Madness for me. I didn't expect to be an author so every day surprises, delights, and exhausts me. Other than Copper Brown, I don't know where my characters come from; I don't know why they continue to get into such predicaments; I don't know why I must save them from themselves. It's fun and crazy at the same time, but I try to keep it all in proper perspective.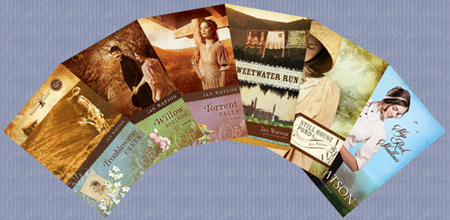 What is something that you have never told anyone in an author interview?
I don't think I've ever told anyone that during one of my very first phone interviews my Jack Russell terrier, Maggie, threw up on my feet. I just kept talking.  I suppose Maggie was as nervous as I was.
What is the one thing that you want to leave readers of Skip Rock Shallows pondering over?
Skip Rock Shallows is character driven and every single character in the book is significant. Just as in real life—every person you are blessed to meet is important, and every person has a story to tell. Listen and you might just learn who they really are and how their heart connects with yours.
Please please tell us about your next planned project…
Currently, I'm writing my 7th historical for Tyndale House. Tattler's Branch is the second book in the Skip Rock Shallows series.  The title came to me about a year and a half ago when I was reading the newspaper. Tattler's Branch—what a cool title. I think it conjures up all sorts of mystery and romance. What might happen in such a place?
Tell us about your blog and participation in other blogs…
I'm sure I am not the first writer to say that marketing is the most difficult part of being a novelist. I do like participating in other people's blogs, and this one is great fun. Thank you for the opportunity. As for my own, I'm learning and growing. The hardest part is finding time for everything. To quote William Faulkner: "The primary job that any writer faces is to tell you the story." Telling the story is my job and what I do best.

It's all good though—all for His glory. I'm blessed to be doing this.
Lilly Gray Corbett has just graduated from medical school and decided to accept an internship in the coal camp of Skip Rock, Kentucky. Her beau, Paul, is doing his residency in Boston and can't understand why Lilly would choose to work in a backwater town. But having grown up in the mountains, Lilly is drawn to the stubborn, superstitious people she encounters in Skip Rock—a town where people live hard and die harder and where women know their place. Lilly soon learns she has a lot to overcome, but after saving the life of a young miner, she begins to earn the residents' trust.

As Lilly becomes torn between joining Paul in Boston and her love for the people of Skip Rock, she crosses paths with a handsome miner—one who seems oddly familiar. Her attraction for him grows, even as she wrestles with her feelings and wonders what he's hiding.
[iframe http://books.google.com/books?id=Vacli1QFZSkC&lpg=PP1&dq=skip%20rock%20shallows&pg=PP1&output=embed 700 500]

Related Posts