I know last year I was loving to look at all of the "Not" Back to School blog posts and maybe even the year before that. I love the idea of planning and figuring out what all we are going to attempt. Last year was just fun and randomness for education. This year is going to be similar but with a little more effort on more often and a little more structure. After all, my baby is three. 😉 Now this year I participate!
There are so many options! If you find me in some forums, right now you'll see my signature line say something like this:
Margaret of Georgia, now in TN – Enginerd's wife and Mama www.CreativeMadnessMama.com
"You can never get a cup of tea large enough, or a book long enough to suit me." -C.S. Lewis
~*~*~*~*~*~*~*~*~*~*~*~*~*~*~*~*~*~*~*~*~*~*~*~ @CherryBlossomMJ
AppleBlossom (gorgeous green eyed girl) – SL p3/4, OPGtTR, MyFirst BOB, LF FrPhonics, TheStory4Little1s, Tuneables, ABCs & 123s!
OrangeBlossom (beautiful blue eyed baby) – Nursing, toddle-walking, climbing!, sitting in chairs like a big girl, pondering solids, eating board books.

There will be a few changes… I'm just waiting on deliveries!
Bible
Language Arts
Writing
(MP Jr. K) Alphabet Books
Reading
Math
Science
Art
Memorial Press Numbers & Alphabet Coloring Book(s)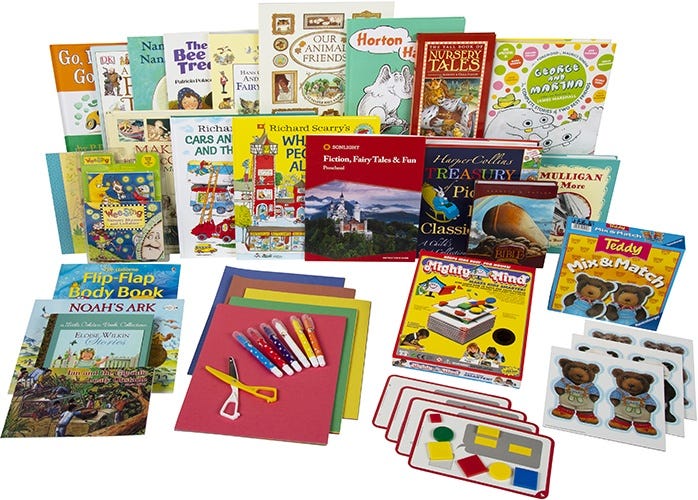 As for now we're working through the books of Sonlight P3/4, not really a curriculum just a booklist and box of books plus a few other goodies, but as we had not gotten our classics yet this is a great way to enhance our kiddo library. That and as a book reviewer I'm always adding more so she gets plenty to read. I keep coming across a book I just love here and there, so perhaps I should make a blog post about my ultimate favorites… hmm… another day. We are also slowly working through OPGTR (The Ordinary Parent's Guide to Teaching Reading) by Jessie Wise (of The Well-Trained Mind). In no hurry mind you, but she likes the sitting together and is just now starting to repeat after me on some of the rhymes. AppleBlossom is very eager to learn how to read and I'm trying to give her the tools to do so. Another way we're working on reading in addition to having fun with I Can Read! books is our Bob Books and other beginning readers. We love the My First Bob Books and now we're spending a lot of time in the Beginner Books Set as well. I'm also working on compiling my ultimate Creative Madness Mama booklist, but that's another post entirely.
Something else we spend time with is LeapFrog Phonics magnets.
Right now we have the jet word builder and the fridge phonics one shaped like a house for one letter. I'm hoping that this year we're start using the word builder more on maybe more CVC words and such. We love these and we also love the LeapFrogs videos. I'll say it up and down that these have been fabulous for teaching her all sorts of things such as the sound each letter makes (LeapFrog Letter Factory) and calendar information (LeapFrog Go to School) and now even more letter sounds associated with fun animals and adjectives (LeapFrog Phonics Farm) and counting (LeapFrog Numberland)! I wouldn't hesitate to recommend these again and again. She also has the little cell phone that counts with her (I wish the Violet one had been out when we got our Scout version!). And then thanks to her AuntS she has the LeapTop and My Pal Violet that help her with all sorts of songs and rhymes and these two have taught her how to spell her name! She can sing it. 🙂 I think the last main LeapFrog thing we "play school" with is our Tag pen. I skipped and went straight to the Tag pen and not the Tag Jr. She is fully capable of playing with it and interacting with the books, even if right now she's not using it exactly as one a little older might for reading all of it. The point for me here is that it is one way she can continue to interact with a book when I'm not quite able to read to her right that minute.
ETA: Another thing I'm super excited about is a purchase we made this weekend. I had a $5 off LeapFrog coupon for Target and we bought the Learn to Write & Draw with Mr. Pencil. I know that we'll probably wait a while on the actual pencil workbooks, but I'm excited about the Tag book. She's always trying to work on her letters so I think this will be a fun interactive way to do it too.
Our Bible curriculum is something that I am currently thrilled about! It is called The Story for Little Ones and it is a small piece for ages 2-5 from a much larger campaign to get the entire family to know their Bible. You can head back and see my full review HERE.
Right now for music, we're often watching The Tuneables. A great way to teach Rhyme and some basics of music. The music is enjoyable to listen to and it's a DVD that isn't just sit and watch, but get up and go and I love that.
Then there is of course our random Kumon First Steps books and some Basic Skills workbooks. I just ordered a bunch more of these and we are both super excited about that.
In addition to that we add in preschool printables when we're up for it. We do not really do a theme or letter a week, but just every once in a while we she or I take a fancy to something. Then she can ask to pull one back out at any time. I know I'm not as thorough this way, but I feel better about getting my money/effort's worth out of all the printing and laminating and after all – she's three, we're playing. Our printables come from a variety of places and if I try to list them I'm sure I'll miss some but I try to keep a good amount of them on Pinterest.
Now as to that package I could wait for… We are planning this fall to start ourselves in Memoria Press Junior Kindergarten! A couple things, one my daughter is just three years old, but there are lots of things that I think that she is ready for. She is my oldest (tag along sister about to turn one on August 11th!) and I think that also affords me more time to dedicate to "school" while if she had older siblings I fully think that she would be a tag-along learner and I would not be doing so many this that and these things. Right now "school" is play and we like it that way. 🙂
Other stuff… Well we have Answers for Preschoolers that is some wonderfully on level appropriate and some over her head. We use the flashcards and talk through the workbook pages, but I think we will use it in full maybe later. I love the workbook pages, but I'm not a fan after spending lots of time with the teacher's manual in that it's not open and go really – it is a lot of words to try to skim by when trying to read to her. BUT, the songs like Daddy Daddy We Love You and others are worth it!
Toys that I designate as "school toys" is our next bit. I am really a fan of educational toys, but then aren't most toys in some way educational if only in imaginative play? We have and love our Melissa & Doug Pattern Blocks and magnetic Numbers and Letters. As of AppleBlossom's third birthday wee just added a bunch more fun in with Animal Pattern Puzzles and Magnetic Pattern Blocks and our Shape Sorting Clock. We're also waiting on Big Button Number Fun to get here any day. My wishlist includes See and Spell puzzles, has anyone used them? What do you think? Goodness Melissa & Doug is taking over my preschool. I guess that speaks to my opinion of them, because it was not on purpose that we went that way. I just wish I could find a good way to store them since most are open top boxes. What do you do? More school toys include our Tupperware Shape-O Sorter and Stacking Pails.


I should also mention that, Sonlight has a Rewards Program I enjoy. If you decide to purchase from Sonlight, enter my Rewards ID when you register an account on their site and you'll get $5 off your first order ($50 or more). I'll get points that I can redeem at another time.
My Rewards ID: MC20343114
Or just use this link: http://www.sonlight.com/rewards/MC20343114 

Related Posts