In The Shadow Of The Sun King
(Darkness to Light, #1)
Genre: Christian Historical Fiction
Pages: 366 Trade Paperback
Date Published: Sept 2008
Publisher: Thomas Nelson
Seventeenth century France is an unsafe time to be a Huguenot. By order of King Louis XIV, all French Protestants must immediately convert or face imprisonment—or death. The king's dragoons ferret out the nonconformists, pillaging villages and destroying homesteads.
When the king's soldiers descend on the Clavell estate, the family's fate hangs in the balance. Quickly, quietly, they send their two sons into hiding, trusting that the young age of their daughter will guarantee her protection. But the dragoons will not be dissuaded; they hold the manor hostage looking for clues of their guilt or innocence. However, Madeleine Clavell, the lady of the manor, holds a secret—one possible chance to save the family. She and the king share a past.
Once a beautiful young lady in the French court whom Louis loved, Madeleine travels to Versailles to plead for mercy from the fickle king, hoping to regain his favor and save her family. It's a gamble, but she is left with no other choice. Madeleine soon faces an agonizing decision—one that changes her family forever.
When I checked last, there are bargain price copies of In the Shadow of the Sun King available on Amazon for $6 in both the original cover and this newer gorgeous one!
*•.,¸¸,:•:*¨¨*:•:,¸¸,:•:*¨¨*:•*•.,¸¸,:•:*¨¨*:•:,¸¸,:•:*¨¨*:••:*¨¨*:•:,¸¸,:•:*¨¨*:•:,¸¸,.•*
A Prisoner of Versailles
(Darkness To Light, Book #2)
Genre: Christian Historical Fiction
Pages: 357 Trade Paperback
Date Published: Sept 2009
Publisher: Thomas Nelson
A Prisoner of Versailles continues following the life of Madeleine Clavell and her turbulent relationship with Louis XIV, and the harrowing consequences thereof, first chronicled in Parsons' In the Shadow of the Sun King. Versailles, replete with splendor and beauty, is the last place that Madeline wants to be as she deals with the death of her beloved husband. In the midst of deep and grievous loss, Madeline's past catches up to her and she becomes a captive in the palace of Louis XIV. Will she ever escape? What will the unpredictable Sun King do? Madeline cannot and will not deny Christ, yet it will take all the hope and faith she can muster to outmaneuver the king. Does she have the courage to try?
*•.,¸¸,:•:*¨¨*:•:,¸¸,:•:*¨¨*:•*•.,¸¸,:•:*¨¨*:•:,¸¸,:•:*¨¨*:••:*¨¨*:•:,¸¸,:•:*¨¨*:•:,¸¸,.•*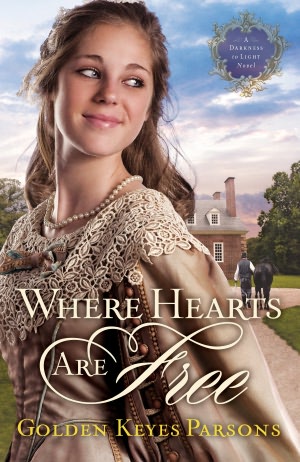 Where Hearts Are Free
(Darkness To Light, #3)
Genre: Christian Historical Fiction
Pages: 350 Trade Paperback
Date Published: Sept 2010
Bridget is in love with one man … and promised to another. Amid the liberty and promise of the New World, Bridget Barrington and Philippe Clavell fall in love. But nothing about their love seems possible. To pay for the Clavell family's passage from France, Philippe, a former member of French royalty, worked as an indentured slave to the Barringtons. Bridget is the heiress of the prominent plantation. When Bridget's parents discover the budding romance between their daughter and their servant, they quickly orchestrate her engagement to an older, more advantageous match. But Edward Moorehead has a secret. And he's anything but a good match for Bridget. Separated from her true love and in danger from her betrothed, Bridget must rely on God to deliver her from Darkness into Light.
Also with this one, when I last checked there are bargain price copies of Where Hearts Are Free on Amazon for $6!
*•.,¸¸,:•:*¨¨*:•:,¸¸,:•:*¨¨*:•*•.,¸¸,:•:*¨¨*:•:,¸¸,:•:*¨¨*:••:*¨¨*:•:,¸¸,:•:*¨¨*:•:,¸¸,.•*
Golden Keyes Parsons writes historical fiction, and is also a popular retreat/conference speaker. Her highly acclaimed Darkness to Light Series chronicled the journey of her French Huguenot ancestors in 17th century France. Her newest novel, His Steadfast Love, a Civil War novel set in Texas, just released November 2011. Her newest book, Trapped! The Adulterous Woman, is the first in a novella series entitled, Hidden Faces, Portraits of Nameless Women in the Gospels, and will be released October 2012. Golden lives in Waco, TX, with her husband, Blaine, where they enjoy their children, grandchildren and great-grandchildren and are avid sports fan of their alma mater, Baylor University.