AppleBlossom and I have made it halfway through Memoria Press Kindergarten and we're loving it. We started early with the expectancy of a new child addition in mid-Spring, but when that was met with miscarriage, we took some time off, but then we ended up right on time with the Halloween books at Halloween, Thanksgiving with Thanksgiving and Christmas and Advent stories with the season, so it all works out. Now it will be the summer that we're expecting a new addition, and that works out just fine!
Also we're continuing to trot along with Sonlight P4/5. We're about halfway through that as well, but we're not trying very hard either. With P4/5 we're mainly doing it to add in more reading. I love MP Kinder, but I also like having more books to read, so it works out well. Memoria Press is definitely my preference for overall curriculum rules. We're also adding in some repeat P3/4, mostly for OrangeBlossom's benefit, but AppleBlossom definitely likes to sit in on those remembered favorites as well. We all love fairy tales.
Sonlight P4/5 (with various different Mother Goose and Peter Rabbit, and adding in A Child's Book of Prayer in Art, substituting First Hundred Words, and adding in A Family Treasury of Little Golden Books.)
How are things working out so far? What will continue and/or change?
Language Arts:
Phonics/Reading: Ordinary Parent's Guide to Teaching Reading, Memoria Press Kindergarten Lesson Plans, Memoria Press Kindergarten Enrichment Guide, Memoria Press Classical Phonics, SRA Phonics 1, Memoria Press First Start Reading, Bob Books Beginning Readers, American Language Society Fun in the Sun, Scamp and Tramp, Soft and White, Christian Liberty Nature Reader (Book K), Animal Alphabet Coloring Book
More often than not I forget to add in OPGTR because it is not scheduled, and I live by the Lesson Plans from Memoria Press Kindergarten. But when we do it, it does a pretty good reinforcement for what we're learning in FSR. I also seem to forget to add in the Bob Books, but the problem with that is trying to figure out where to add them in (whereas the MP Lesson Plans include Primary Phonics readers). The Animal Alphabet Coloring Book is not overly exciting, but it is a start, and definitely shows that we need to invest in some more coloring books. 🙂 We will definitely continue all of these Phonics/Reading choices until the MP Kinder year reaches completion. After this so-far portion I am really excited about our future with MP Lesson Plans and curriculum. The only thing that I haven't been super excited about is the SRA Phonics. But I will go into that more another time… Glancing at this the only other addition we have made is to add in Explode the Code, Book 1. We do about two pages or so at a time, and it is remarkable to show me just how much she does comprehend.
Writing: Memoria Press Kindergarten Lesson Plans, Memoria Press Copybook I, Memoria Press Composition & Sketchbook, Handwriting Without Tears Letters and Numbers for Me
I love the MP Copybook I and it it working out really well. I haven't found much opportunity to use the Comp & Sketchbook, but perhaps that will come. The only thing that I might be interested in changing in the future is adding in more copywork. Right now it is one phrase (scripture) per week, and I do not think that is nearly enough, but perhaps it is just a slow introduction.
HWOT is typical and works just fine. I'm finding that the Kinder is not quite as necessary to us as the My First School Book was. I'm not sure that I will continue to with HWOT after this book, maybe. After reading some other blogs and seeing their pictures of their kiddo's work with Italic font from Getty Dubay, I'm seriously interested in starting this program to see if it might take. But then in the MP 1st grade they start New American Cursive, so I might not have time. I guess we'll just see…
Grammar: maybe First Language Lessons 1
When we remember it's fun. But I haven't made it quite a dire requirement yet. Maybe in the spring? If not, we'll pick it up next fall, perhaps.
Math: Memoria Press Kindergarten Lesson Plans with Memoria Press Numbers Books and Rod & Staff Mathematics 1, maybe Math Mammoth Light Blue 1*… with added worksheets and printables from Education.com and mama blogs.
Math has probably been the most surprising success this year! I have MM printed, but I need to take it to be bound, however I'm not remotely interested in going until after the Christmas holidays. (As I'm writing, Christmas is next week.) The MP Numbers Book adds in some fun, and I wish I had more pages like it. I have forgotten to keep up with getting new things from Education.com, but I have added in some fun seasonal freebies from the Moffatt Girls that we all really enjoy. That reminds me that I also bought two of her themed Kindergarten packs, and they're perfect for us! (These include Literary and Math activities.)
Rod & Staff Arithmetic 1 is fabulous! Honestly when I was planning to go in to having the MP Kinder program, the math was one thing that I was planning to substitute, but through the blessing of being able to review for Memoria Press and reviews I read I decided to give it a try. I'm beyond delighted that I did. I absolutely love the combination of Bible stories with learning numbers, what great pegs to learn features on and grow with! The way they introduce to learn how to write numbers has also been fun. We also have Counting With Numbers that we didn't quite finish last year, and we add that in from time to time as it comes too. Without a doubt I plan to continue to use R&S as long as we can.
Arithmetic 1 is continued into first grade, so no changes really expected here. Just keeping on keeping on. Santa did bring a copy of Life of Fred: Apples, so we'll experiment with that for fun and see if we like it. I would not use LoF alone, even though I know it is possible, its just too different for me. We do not use felt as suggested in the R&S Math, we use Base Ten Blocks instead, but it works out great, especially being in a homeschool and not classroom setting. Oooh!! And Santa has brought a set of Inchimals, so this will be a fun addition! Hopefully in the next year I can add in more "games" to reinforce math concepts we're learning. I'm definitely open to suggestions if you'd like to share what works in your family!?!

Social Studies/History/Geography: Memoria Press Kindergarten Lesson Plans for themes with added in research reading.
This has been an interesting topic to study. The MP Lesson Plans are mostly phonics and math to our experience and only about one day per week is there a social studies suggestion. Often it goes with the typical calendar or seasonal year portion you're at if you started in the September range. For example Columbus, Thanksgiving traditions and Advent. I have to confess that this is one place where I wish I had more to go on. When I know where to look we do have nifty things to add in from an Encyclopedia, but often I'm clueless where to start the research to add more into it, but then that's not the focus of this year. So this is definitely something that I would like to be more meaty in the next year.
I have a digital copy of the A Child's Geography, but I'm not sure we're ready for that. Same deal with COAH's Road Trip USA and Expedition Earth: World Geography programs; I just don't think we're there yet. Santa did bring a copy of Beginning Geography, Grades K-2, so that's a starting point for the new year.
Bible: Continuing The Story for Little Ones and Memoria Press Kindergarten Lesson Plans with The Golden Children's Bible
Well this definitely didn't continue as planned. Suddenly, AppleBlossom felt she was done with The Story for Little Ones and jumped into The Golden Children's Bible. I really like it as an added feature and think that MP has a great choice in this one, but it's just one story per week (that then has the one Copybook entry) and I wish there were more. I feel like even though we touch it a bit everyday, it's not enough and she forgets to think about the Bible through the week. I would like to add daily Bible. We have tried reading from the Family Reading Bible and it works, but it's not very exciting for her age range to just hear the stories. Perhaps if I added in the copywork/coloring pages from Mama's Learning Corner, but as wonderful as they are, I don't know that she'll keep them up through the whole Bible, nor ahead of what we're studying.
I've considering the traceable GrapeVine studies, but it's just not in the budget. Lovely idea though!
Science: Memoria Press Kindergarten Lesson Plans for themes with added in research reading, various books from the Cat in the Hat's Learning Library, Let's Read and Find Out Science, Gail Gibbons*, Jim Arnosky, Water Dance by Thomas Locker, Handbook of Nature Study by Anne Botsford Comstock, World of Animals from Master Books. We're also watching the Magic School Bus Complete Series on DVD, by request or theme.
Again like social studies, this is a once a week thing. I do enjoy the books we read, *we haven't been able to purchase all the Gail Gibbons on our lists yet. I like this approach, but I also want more. I've been planning on adding in Apologia's Exploring Creation elementary series for years in my plots and plans, but now with the release of Science in the Beginning from Jay Wile, I'm not sure what I think anymore. I hear that SITBEG is for all elementary grades, but I also hear that was a little rough for a second grader, so I don't know when we should start it. Then if we go with Apologia's elementary studies, which one? I'm definitely open to suggestions! 

Art & Music: Memoria Press Kindergarten Art Cards, Looking at Pictures by Joy Richardson, and Art Lessons with a local artist. Music is from a Memoria Press list that we listen to on a Spotify list I put together.
Art has been fun. We love the art cards from MP. The art lessons locally were a bit of a dud though, the artist and teacher is great, but the other students needed naptime more than they needed art class so it was a bit of disappointment and she never got to really learn anything. We're also spending a lot of time in the Child's Book of Art and Child's Book of Prayer in Art and AppleBlossom loves them. Maybe I have an artist yet?
We really enjoy the selection of music from the MP Kinder list. I wish I had an easier way to listen to it than from my computer, but without paying to purchase all the songs, it works pretty well to listen to it on Spotify. We bought a 1/16 violin for AppleBlossom and had some work done on mine. I've contacted a teacher and we'll start lessons together in January, so I'm super excited. I really need some refresher courses and hopefully I'll be able to go much further than I ever did in my youth with varying teachers from year to year. The teacher is full of a great personality and very easy to work with and doesn't mine OrangeBlossom tagging along, or the addition come the summer, so it shall be a fun adventure. Interestingly we did discover that a 1/32 violin vits OrangeBlossom, but that's just not in the budget. Alas.
Foreign Language: Nothing specific. She watches Japanese cartoons with the Enginerd and French dubbed films with me. Then there is random dual language books on our shelves including French, German, and Spanish.
Nothing new or exciting here.
P.E. : Preschool Yoga and Soccer at the YMCA
Soccer this fall was a real disappointment. The 2-3 year old soccer experience was awesome, but it is a different program for the 4-5 year olds. It was frustration and we're back and forth on whether it was a waste of time. I'm not sure what we'll do in the next season. Preschool Yoga is still great when we can make it, and now both girls are participating. It's a once a week thing.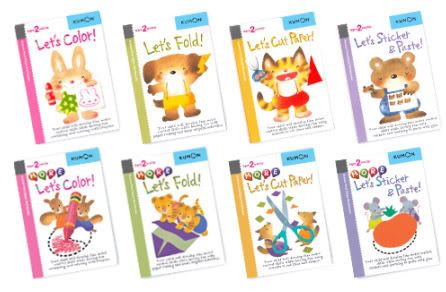 OrangeBlossom is getting more school on her own terms as well. While I'd love to organize myself to get her some real Tot School experiences and start learning the alphabet. She is loving to use the Kumon First Steps Books. Now if only I could remember to start doing these more with her on a routine basis, that would be golden.
Kumon First Steps Workbooks
LeapFrog DVDs and Toys
I also have been deeply blessed by joining the 2014 Schoolhouse Review Crew so that should add in some more interesting curriculum choices from time to time. Hopefully we'll find some wonderful additions for ourselves and to share with you all as well!
Definite additions:
McGuffey Readers
Explode the Code 1
Beginning Geography
Life of Fred: Apples
Inchimals
Violin
Possible add-ons: 
Science Curriculum – Apologia or Science in the Beginning?*
Getty-Dubay Handwriting
Choices that just aren't for us: 
SRA Phonics
Things I'm looking forward to in the fall to add: 
Apologetics – Vol 1. Who is God? (And Can I Really Know Him?)*
Primary Language Lessons by Emma Serl
Latin – Prima Latina and the rest of the Memoria Press First Grade Curriculum including Cursive
Mystery of History I* and Sonlight Core A for read alouds
Something I'd love to add if we had the budget (or review opportunity!):
English Language Lessons Through Literature 1
GrapeVine Studies – traceable
Mystery of History I
Who is God?
Science curriculum
Class​ical Acts and Fact​s Hist​ory Card​s
Class​ical Acts and Fact​s Science Card​s

Related Posts