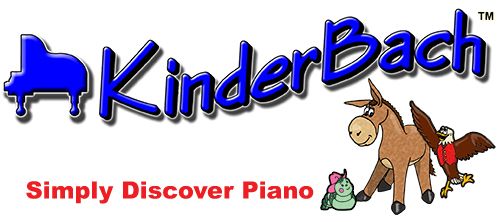 This start of the year has been filled with new experiences for my children in the way of school. Something they had never had before was what we now call computer-school. The first introduction in computer-school for us is a review of
KinderBach
, or specifically
The KinderBach Online Piano Lesson Membership with Teacher Corner
. We have been blessed with access for six months to the lessons. Overall the program is geared toward children in the range of ages 3-7, however I'm told that others find it does work well for children slightly above and below.
Our goal was to use the program 3-4 times a week and see how it went. This is the first introduction either of my blossoms has had to piano lessons. AppleBlossom has been begging to learn to the piano for over a year now. We were blessed with a hand-me-down keyboard and delighted to jump in and get started. Sadly, we soon discovered the keyboard is not in good condition and can no longer play more than one note at a time, however to start lessons and learn the keys it still serves it's purpose. While I knew that AppleBlossom (age 4 1/2)  was the main one interested in the lessons, I was delighted to find that OrangeBlossom (age 2 1/2) was intrigued as well and participated in all activities except the worksheets.
What activities you ask? Well there are plenty! We danced, we sang, we marched, we drummed, we lived music in our actions and thoughts during the few minutes each lesson lasted. At first the girls were delighted and begged for more. We also have downloaded PDF workbooks that have been a great hit. AppleBlossom loves these. She loves for me to sit with her at the keyboard and talk about Dodi's house and all the notes while she circles something, colors something else, and learns more about music.
The program includes printable worksheets, lesson plans, goal books, coloring books, story books, song books, certificates and teacher aides for lessons.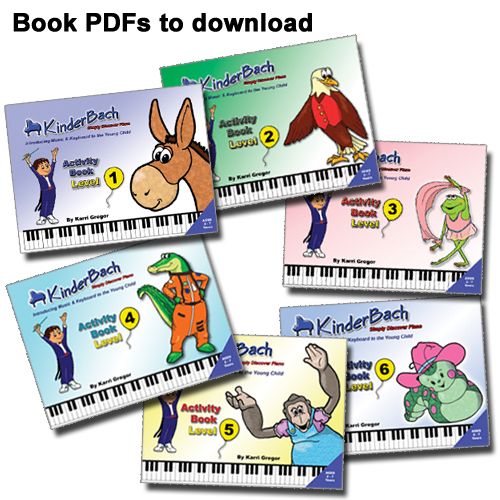 However, when it comes to watching the video lessons… by the third time we turned it on, OrangeBlossom no longer came in to participate and AppleBlossom begged to do Science-computer-school instead (more on that tomorrow). Personally to my opinion I found the videos entirely too short, we tried to watch it more than once, we tried to do more than one lesson at a time, but either way it never felt quite right. Then there was the fact that it was a little too overboard to me, it was slightly annoying. We're not completely opposed to children's movies and children's TV shows, but we are a bit picky, and this seemed to be filmed in the manner of many of those we avoid. But I set myself back and said this was for the girls and I would overlook my opinions while they watched (after all, it is really short), but even then the girls interest waned.
AppleBlossom loves to pick at the piano and talk about it and learn things bit by bit in discussion, and she loves the worksheets and coloring pages, but she will pitch a fit now if I try to turn on the videos. She does not pair well with them and in her case and apparently her younger disinterested sister either. We got through lesson one and into the beginnings of lesson two before the battles began. Any other time of the day, she'll love to talk piano, but not watch the videos.
We tried the videos on a smaller laptop, and on the TV screen in the living room and it was interesting to see that the screen could not be maximized like other online programs. It became a large white space with the same size small video.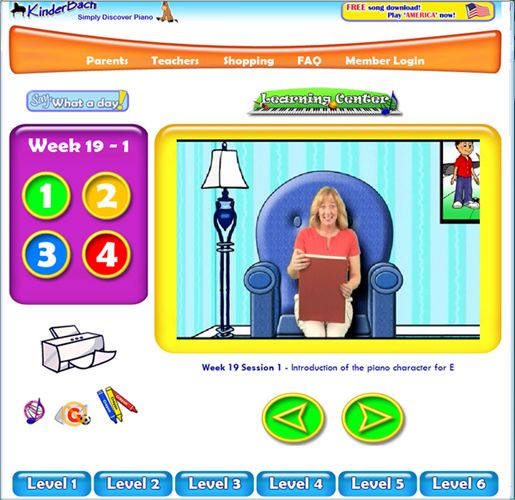 I had really high expectations for KinderBach, and in the end I was not entirely pleased. However I know many others probably love it and you can read many more of the Crew reviews to see this by clicking on the green banner below.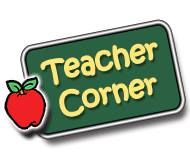 There is a way to avoid the videos (that didn't work for us) in the teacher's corner and lesson plans, but this is very hands-on and not open and go with lots of materials to gather and complete mother-teacher interaction time and while the lessons do end up being longer. It is not quite what I was looking for considering the price of the program. I think for our family it is the videos that makes it a deal breaker. Perhaps if the lesson plans were accessible for a lesser price if someone wanted to omit the videos it might be worth it. But then as I said, lots of kid's videos are geared toward this type of silly audience today and I'm sure it might be very successful in another family – so since it's not our cup of tea, don't just stop there.
Online subscriptions begin at $7.99 per month, and with a Free 2 Week Trial, and a 30 day money back guarantee – you don't want to miss this opportunity to try and see if it might be the correct fit for your preschooler or youngest elementary student.
Facebook:  
www.facebook.com/kinderbach
Facebook for Teachers:  
www.facebook.com/classroomkinderbach
Twitter: @KinderBach
Pinterest: 
https://pinterest.com/KinderBach/
YouTube: 
KinderBach Preschool Piano



Related Posts