The idea of getting involved in "computer school" was a bit daunting for me. Most of what we do in school is from books and interaction. While I'm not opposed and definitely use videos and mp3s when appropriate as well as a plethora of sites for printables, the idea of sitting my girls down in front of a computer that they take charge of in a program is a good bit daunting. While I hear rave reviews of things such as Starfall and the like for preschoolers I've always hesitated. So when I had the opportunity to come up to review Science4Us.com as well as KinderBach from the TOS Crew I jumped in, with trepidation. As you might have read yesterday, KinderBach did not quite work out for us as wonderfully as it might have… so as we were spending more time online I was concerned that a Science4Us.com Online Subscription might have the same fate. However, that is completely not the case, as we love it!
As a family we were blessed with a six month subscription that I was able to spend several weeks pouring over for review. Typically, a membership cost $7.95/mo per child. The program is geared toward K-2, however is suggested to be used for review of children in the 3-5 grades as well. I only used this with AppleBlossom (4 1/2), but often her sister OrangeBlossom (2 1/2) would stop by to watch an interactive video as well. Our goal was to use the program 3-4 times a week and this was no problem as AppleBlossom begged for it daily!
With Science4Us.com there are two methods or portals of login. One is for the teacher and the other is for the student. While I did log into the teacher portion from time to time, more often we logged into the student portion and spent our time together. AppleBlossom is a young kindergartener and on the youngest end of the spectrum for this program and as I mentioned she has absolutely no experience using a computer on her own so this was definitely a learning experience in more than one area. I hooked us up on the computer in the living room attached to the big TV and guided us to the website, logged in, and the gave her control of the mouse for the most part. It took a few days to get a handle on it, but then she loved that she was making things happen by her command.
Going in on the student portal things were interactive and fun and easy for her to navigate once we learned what the different symbols stood for through out the modules.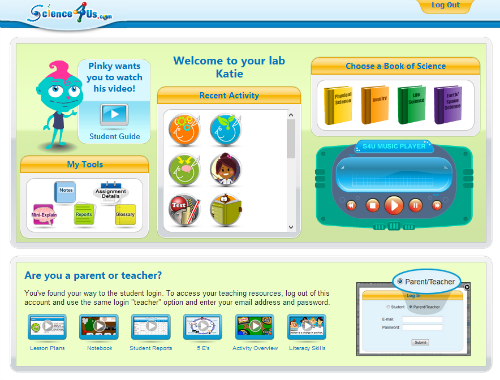 On the teacher's side, things were also interactive and attractive as well as well put together with plenty of explanation and downloadable lesson plans, activity sheets, and ways to bring the experiences off line and continued in the "classroom".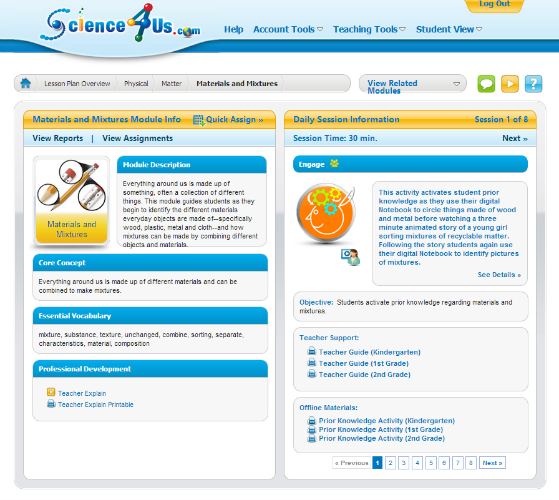 What was neat for me, was sitting with her and having memories come back to me of my elementary years in the earliest stages of a computer lab, where we all went, logged in and played "games" such as Reader Rabbit and the like. For whatever reason, I never really thought of bringing that type of thing into our homeschool. I guess I figured that computers take up enough of our life and as she gets older she find more than enough reason to be on one, so why start early. However, with our experience in using Science4Us.com I think that area of thought for myself could be amended. There is no reason that she would have to do more than one module at a time (approximately 15-30 minutes each) and that amount of limitation would not hurt anything or take the day away.
This is completely an online program, but as I mentioned with printable PDFs it is possible to bring some reinforcement offline as well. I was able to access it from both my iMac as well as an old eMachine PC hooked up to a TV with almost no issues. Unlike our experience yesterday, with this program if you maximized the screen it is clear and brilliant as if it is meant for a big screen (which with their access for school classrooms, on the big screen, perhaps it really is meant for the WhiteBoard). The animations were just the right amount of silly without going overboard and my girl giggled and learned. After we talked about rulers she discovered one we had and has been carrying it around most days measuring and telling me how big things are.
Overall, I think this was a fabulous introduction and if budget permits I would love to continue with it even after the full review period is over. I think that it is a great resource with lots of learning possibilities. That is not to say that I would use it as our sole science curricula, even as it is meant to foster as a full K-2 science program, but that is because we have other interests as well and are just too excited about our 'other' textbook approach. But they complement each other greatly! There are plenty of experiments I would love to show her, but have no desire, finances, nor time to get the materials and procedure accomplished, yet here she can see videos and even interact with somethings in a click. Truly we have just loved this experience!
Now of course, things cannot all be golden and there was a few glitches for our family, but nothing to steer me away. For one, AppleBlossom is a bit young for it and the note booking part is above her head as she is not yet a full reader (but a budding CVC phonics sound-ing-outer). But there is so much in this program that is great for an early reader! Instructions and questions are read out loud, often highlighting the words as they go. Answers may be hovered over and will read their title out loud! She can recognize the word "yes" now, and I think that is completely from starting trivia in this program. Then there is so much curricular cross over with the Silly Bulls syllables interactive games, glossary alphabetizing and more. When we watch a video it can easily be repeated, or if a quiz is answered incorrectly it will auto reply, which often is exactly what she needs. Before this program she was just watching it for fun, so it was amazing to explain to her that she really had to pay attention to what they were telling her and to watch her then learn things and retain them. (Sunday afternoon education television with the family has never been the same since!)
And then two, there were many exercises that I knew she had completely and were starred on her student portal, but showed up as incomplete on my teacher portal. I heard this happen with a few other people and while if I was a teacher with many students or not with her at the time of participation this would be a problem for us it wasn't, as I was there and knew what she had and had not accomplished. Yet like I said, no deal breakers here.
Science4Us.com is nothing like anything I have experienced before and it would be less than $100/yr that might just be worth it. It definitely has opened my eyes to the possibilities of online programs that can be good and bad. This is my kind of program and definitely something I'm glad to promote and put my star of blog post favorites upon.
Twitter: https://twitter.com/Science4UsSays
Pinterest: http://www.pinterest.com/science4us/
Facebook: https://www.facebook.com/Science4Us
G+: https://plus.google.com/u/0/b/112259351657747584252/



Related Posts