*So how about take-four on this review post 'eh?*

Last year (or was it the year before?) when I was blessed to visit a local homeschool conference (there hasn't been one within three hours since!) I remember my SisterL telling me to check out the ARTistic Pursuits booth. The program has been on my wish list since, and I was thus delighted to gain the opportunity to review the Early Elementary K-3, Book 1: Introduction to the Visual Arts (expanded and revised for 2013).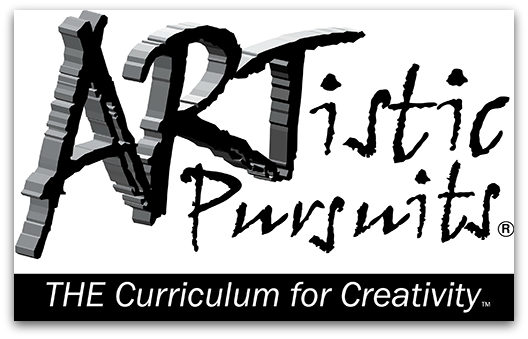 *I originally posted this one at the end of last week, the same day as I upgraded to the latest WordPress upgrade. Then it disappeared. I rewrote it again, and it was gone later that day. I went back to write it a third time and when I clicked visual or text in the editor there was no box to type in! So now, I've written in on paper and I've had other posts stay while this one dissapperated once again (yes you heard me, HP fans…). So now, here we go!*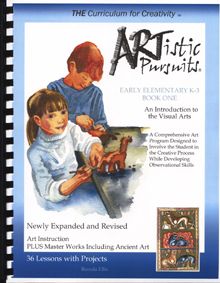 ARTistic Pursuits is written by a homeschooling family, for homeschoolers, but could easily adapt to a classroom or co-op setting. It is a program full of hands-on experience and art appreciation from famous works of art. Each segment or lesson provides historical information, a piece of art image to view (of varying mediums), and instructions on creating your own art using various techniques.
In our situation I'm reading the text and my artist-want-to-be four year old (almost finished with Kindergarten) child is soaking it all up. She's never satisfied with just one lesson, so often we progress to two in a single day and/or sitting.
The Early Elementary K-3, Book 1 book is composed of parental notes and 36 lessons divided into three sections containing: What Artists Do, What Artists See, and Where We Find Art. For the K-3 books, each lesson is intended to be completed in a week. The book is written for students of ages 5 & up, but we are having a great experience with my 4 year old daughter loving the information and lessons.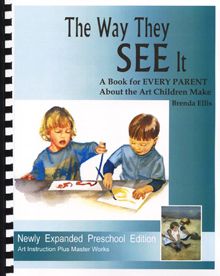 Even my 2 year old enjoys some of it, thus we promptly ordered the book and supplies for the Preschool materials as well. 
My experience from samples I printed from The Old Schoolhouse SchoolhouseTeachers website guided me toward the idea of a lesson once per week. Previously we have been venturing to a local artist's house for lessons once a month. So now trying for once a week is a change. If it were up to AppleBlossom's discretion we would do multiple lessons daily! For the time of this review period we did 2-3 lessons per week on mixed days.
We read, discussed, and then jumped in to activity. The lessons are brief, however this led to an open-ended time frame for child creativity. for now we are using the kitchen countertop-height, bar top and a table in the driveway for different mediums (paint!). I would like to designate an art space (inside and out), but haven't figured the logistics of that out yet. Perhaps the Enginerd will build us an art friendly picnic table for the yard. If AppleBlossom's interest in art continues at the rate she's been at for the last two years, I think we'll have an adventure on our hands! For us, I didn't set a time, but just let them go until interest wanted or the next meal was upon us. (While OrangeBlossom did not necessarily participate in the art activity of the lesson, she still painted while we painted, and illustrated with crayons when we used watercolor crayons as well.)
We have only just started to scrape the surface of this book (and truly, the program!) and we are learning so much. In the beginning getting supplies was interesting in experience. For convenience one can order directly from ARTisticPursuits.com. I attempted to bargain shop locally but could not find what I needed in full.
Then a good bargain could be found at Dick Blick and RainbowResource.com. Either for sets or individual items, depending on the item and shipping costs both are close in price. I felt the price of the books and supplies was a bit much to start, but dividing it over the year or years, and multiple children as well as not settling for the first cheap brand I see, is truly a huge difference on ease of use and the quality of a final project. The K-3 Books retail for $47.95.
On final thoughts to share, what I can tell you is that this has been a learning experience for all of us. Growing up I've always been surrounded by the term "watercolor". I always thought that this just meant the paint that you add water too (dip brush in water, dip brush in paint, paint on paper, rinse, repeat). I never realized what things meant by watercolor crayons, or watercolor pencils. It has opened my eyes and really taught me new things. I loved art as a middle elementary student, but classes ceased after fifth grade, and then when they came back in eight grade if you were not a serious student, the department wouldn't let you in the classes. So I missed out in high school as well. Oh to have those years back to fill my mind in the way that we're blessed filled our children's education now in ways they are passionate! Imagine all the projects to accompany the learning process as we enter into first grade lesson materials and more subject matter – oh the history and science (nature study!) lessons!! *sigh* In the end the only thing I would change is make the books to be spiral bound instead of comb bound. Personally comb binding and I do not get along. Then usually things are comb bound for a lay flat result, however that's an non-issue as these books are printed on heavy duty paper with full color images and only one side, so spiral would be awesome with a flip around option.
Oh! And if you're already familiar with ARTistic Pursuits, be sure not to miss the fact that all the editions have been updated for 2013 and there is a new series for ages 11 & up on Sculpture!
Last thing, I promise! I took these books of our new fascination to the art teacher we see, and she was so thrilled with them, she's gone off to order herself and entire set to add things into her own lessons for all ages!
Social Media: Facebook: https://www.facebook.com/ArtisticPursuitsInc



Related Posts