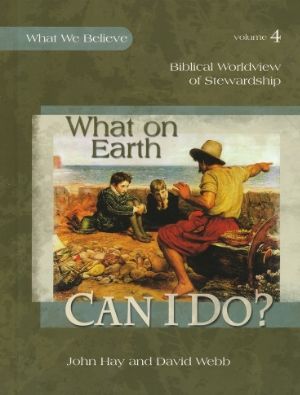 What on Earth Can I Do?

by David Webb, John Hay


Genres:
Christian Fiction
,
Christian Historical Fiction
,
Educational Resources
Published by
Apologia Educational Ministries Inc
on August 1, 2013
Pages:
295
Format:
Hardcover
Source:
Blog Tour
,
Publisher
Find on Goodreads
My previous experience with Apologetics/Christian Worldview studies has been in Bibles that include articles, or magazine articles in themselves. Never before with something laid out and structured to go deeper and build upon itself. I came in blind, but was fascinated to see just how much history is interwoven into the lesson segments.

What We Believe series' fourth book, What on Earth Can I Do? helps students comprehend the meaning of a Worldview of Biblical Stewardship and what it means to be stewards of all the blessings we have from God.
*This post is updated with my new format on May 3, 2015.

My decision to homeschool started before my first child was born and one of the things that I have had on my wishlist ever since (just waiting for it to be appropriate) is the apologetics curriculum from Apologia Educational Ministries ~ (http://Apologia.com). It is my blessing to have the opportunity to review the What on Earth Can I Do? curricula. In my experience, apologetics is something that should be a requirement of Christian education, but so often kids are left on their own to figure things out. Sure there is a bit of Sunday School that is give or take whether it is is more than just Bible stories, and you might find an incredible Bible study, but really getting into the nitty-gritty will help today's Christians better understand, defend, and proclaim their beliefs in this age of increasing moral and spiritual relativism. Matching this with my Apologetics Study Bible (or the For Students version) or the Case for Christ Bible makes for a fascinating study. This program is ideal for grades first through sixth, however I could see an older student using it alone for a personal study as well.
My plan was to use the program with my daughter who is ending her K4 year and entering into K5/First Grade material. I know she is not six years old, which is the age that I have always seen recommended, but I was thinking for the most part she would be able to do the activities and definitely willing to listen to the reading. What I didn't expect was for her to ask for this "class" on a daily basis! I also didn't expect my two, almost three year old to sit and listen with us and want to participate as well. So for these reasons, I'm delighted with the opportunities that Apologia provides in their optional accompanying books.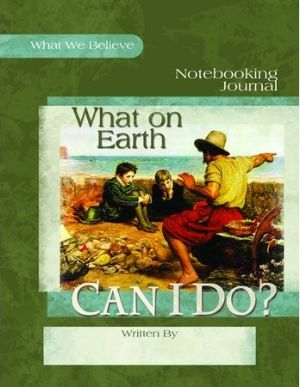 The What On Earth Can I Do Notebooking Journal is a bit over the head of our current school level, but is interesting for me to look through and gain further ideas. However, for about 80% of the activities the What on Earth Can I Do? Junior Notebooking Journal is exactly what we need for my daughter (who is starting first grade level materials). I love the spiral binding and durable covers of the consumable workbooks! Lastly, we also received the What on Earth Can I Do? Coloring Book which I expected to give to my daughter again for just reinforcement after all some of the coloring pages are repeats from the Jr Notebook, but the coloring book has so much more. This is where I didn't expect, but was delighted to have this available for my not quite preschool daughter (who is just starting to learn her letters, shapes, etc) to color while we're also working on the topic. The coloring book is 64 pages of front and back coloring (with medium black lines) and is a three-staple book. It too has a very durable cover and I see it lasting going on and off the shelf, as well as in and out of the tote bag in between "class" times.
My favorite part of this curricula has got to be the main hardcover book. I've been watching the series for a while and wishing for it as I mentioned and I've gone back and forth on whether I would start this fall or next (not so much as to whether my at that time five year old will be ready for it – as she is – but more so to see about combining the girls in the study). At this time the What We Believe series has four volumes, What on Earth Can I Do? is actually the fourth and newest volume, but starting here works and just fuels my desire to get all the rest of the books in the series as well. I believe we'll continue on with What on Earth Can I Do? but also purchase Who Is God? (and Can I Really Know Him?) for the fall (…and if we hold it for the next fall, to continue all the way through What On Earth Can I Do? that works as well…). Each book in the series is a beautiful shade of color: sky blue, deep red, golden yellow, and now hunter green. They are gorgeous to look at and filled with lovely illustrations and images.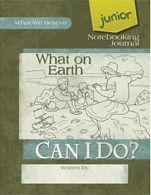 Both Notebooking Journals are filled with full color activity pages as well as the spare white page for notes or a writing activity and of course the coloring pages within the Junior Notebook. The Notebooking Journals are fold around lay flat with the spiral binding, and I absolutely love that! In the Junior Notebooking Journal we have enjoyed the coloring pages (obviously!), as well as word search, cross word puzzles and copywork. At this point we have skipped the lapbook portions as we're not quite ready for that, but I know in and older age and a re-run through they will be quite fun (they're full color as well!). In the beginning of the Junior Notebook Junior, I found lesson plans as a great guide for keeping track of what we plan to do. Some days we do one set day as recommended, and others we'll do two or three depending on the willingness and the topic. Ooh! I also forgot to mention how much I enjoy the vocabulary (Words to Know) fill in the blank pages as well. We're only on the beginning of her reading skills, but I can tell her the word and give her clues as to which one it is (beginning letters, etc) and she can write it down and we'll read through the sentences a few times and talk about these new words. The other thing I love is the Find Out More pages with a list of books, song and videos for further exploration on the topic within the lesson.
The regular Notebooking Journal seems to have the same activities as the Junior Notebook Journal, however the cross word puzzles are smaller (more words and clues) as are the word searches and there are many more writing activities and no coloring pages. In the back of the workbook may be found solutions to the cross word puzzles and word searches, however there are no answer keys to the discussion and written questions. This last part I find to be good and bad I suppose. The answers can be found of course re-reading in the main hardcover text book, but sometimes an answer even alludes me and then I don't know how to provide the answer for my kids without further research. At this point, she's glad to accept a simple "I don't know", but as she grows in maturity and grade level, I doubt that will always work!
Something that is interesting that I didn't expect (seems to be a lot of that 'eh?) is that a lesson is not a daily event, nor really even a weekly event as it can sometimes wrap over. Lessons can go for quite a few days, however, if you follow the plans the parts within a lesson are broken up quite well.
In the main hardcover book within the introduction one will find a sample lesson plan by section. I have been using the lesson plan in the Junior Notebooking Journal with specific page numbers and activities as well as topics listed, but in the main text it shows a repetitive lesson plan by content activity that could guide a lesson from two to three weeks in length. When in most subjects I'm used to having a lesson a day, this is a different feeling, but it works and it really lets the subject matter sink in and be discussed multiple times and in multiple depth levels. While I want to keep calling this course Apologetics, the text refers to itself as Worldview and that in itself is such a sit back and have your eyes opened idea. This is an important course of study and it is provided in a delightful way.
My previous experience with Apologetics/Christian Worldview studies has been in Bibles that include articles, or magazine articles in themselves. Never before with something laid out and structured to go deeper and build upon itself. I came in blind, but was fascinated to see just how much history is interwoven into the lesson segments. So much time were spending on World War II right now from Hilter, Corrie ten Boom, Charlie Chapmin, to Churchhill and more reading about the past to learn about ideals for change in the future is a great (and interesting!) way to go about this. Full color pictures mixed in with period black and white images opens the mind and imagination to what we're reading about and while I see it first and either point things out, or she sees them later, they are of uber value.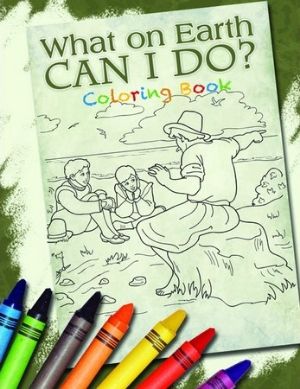 Right now our current plan of attack includes my AppleBlossom (almost 5 year old) daughter sitting somewhere comfy with her Junior Notebooking Journal and a jar of erasable coloring pencils. Usually at a child's table in the living room if not her desk in the library. Little sister OrangeBlossom (almost 3 year old) sits on the floor with a giant box of colored pencils and crayons asking for the coloring page to match what we're reading. While I sit either on the couch or green mama recliner in the living room or the brown chair in the library reading aloud to the girls, sometimes showing them included images, sometimes leaving it for them to browse over later.
What On Earth Can I Do? is interesting reading. The continuous story of a family in war times is sad, but hopeful and appropriate listening for a young child (mine aren't overly sensitive if that's an issue with yours). The mixture of history story, biography and history facts, parable of the same theme and probing questions is a grand mixture. I'm learning so much, and by the discussions that follow my daughter is picking up quite a bit as well. We are definitely ready and willing to read and listen to this series, the only thing I haven't decided yet is what is the appropriate additional material for my oldest daughter. All students learn differently and perhaps if she were older the writing questions would be more appropriate for her, but right now we're more about the fill in the blank, cross word puzzles, word searches and coloring pages. But if we skip the writing prompts that does leave quite a few empty pages (and we're just not a lap booking family) so I'm undecided that. We definitely use about half of it and love it. Part of me wants to say, maybe if the journal was a download where I could pick and choose what to print, but then with the price it is totally worth it to buy it as a wonderfully spiral bound journal. So it's all an up and down choice. Who knows!?!
Overall, I'm delighted with our introduction and experience with the What We Believe series and I definitely look forward to seeing more of the series added to our homeschool experience. There are four products for volume 4: $39 for the hardcover text, $24 each for the Notebooking Journals, and $8 for the coloring book. While ideal for first to sixth grade students, the books are said to be written on a fifth to sixth grade reading level and suggested for students ages 6-14. The What We Believe series appears to be completely open and go (with an add on here and there – like watching The Sound of Music after reading about Maria Von Trapp) and aside from the lack of answers to discussion questions I don't have a single con as the program is all pros in my opinion!
Here are the social media links for Apologia:

 Facebook – https://www.facebook.com/apologiaworld
 Twitter – https://twitter.com/apologiaworld 
 Google+ – https://plus.google.com/105053356034237782125/posts
 Pinterest – http://www.pinterest.com/apologia/



Related Posts