In 2012 a man named Howard and his wife started Kinder Cottage Publishing ~ (http://KinderCottage.com) with the desire to "create and offer parents products to help educate their children" as well as provide a love of western civilization including literature, history and Christian faith and culture. In addition to featuring a series of Peter Rabbit books (today's TOS Crew Review!) they also have a series of abridged Oz books as well. The concept and desire of Kinder Cottage is delightful and their job is well done.
Creative Madness Mama was sent two books in the Peter Rabbit series for review, I chose to go with Christmas and Easter as I've never read a Peter Rabbit story with these topics. We spend a lot of time reading treasuries like Thorton Burgess books and at first I thought that this was another rabbit with the same name and different character. However, I was surprised to discover these actually are a series continued on the line of an original British author by a different American publisher in the early 1900s. Let's think of it as published fan fiction… which we know can be a wonderful thing some times!
These books were originally written by Duff Graham for the Henry Altemus company over 90 yrs ago. These books have been edited them to modernize the text. These books were written and published in American.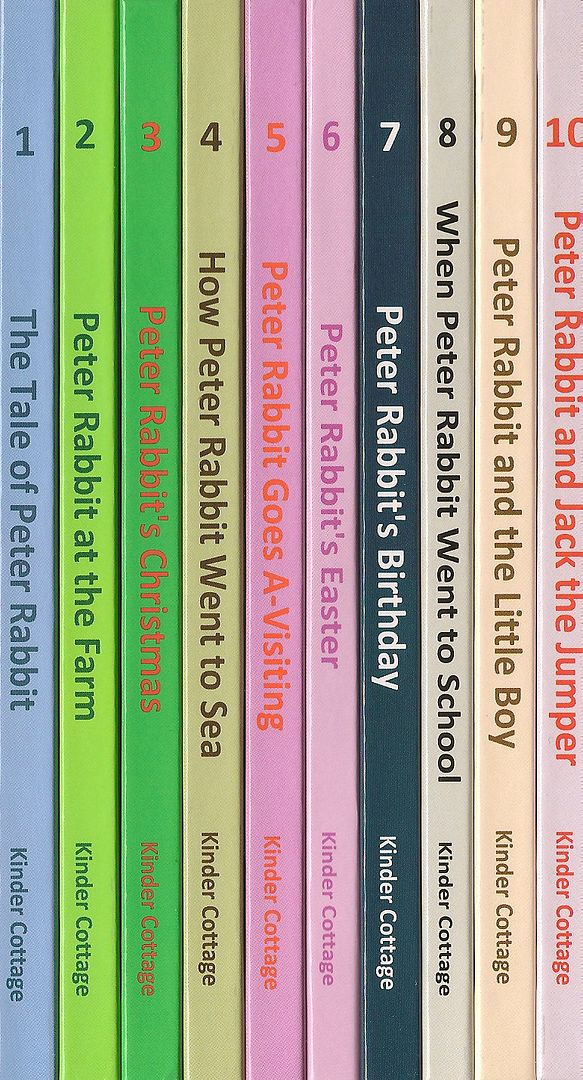 It is my understanding, that the Henry Altemus Company was a publishing company based in Philadelphia, Pennsylvania, for almost a century, from 1842 to 1936 including their most popular Wee Books for Wee Folks which included the original Peter Rabbit series from Duff Graham. Can you imagine when these original books were only $0.50 a piece? What a delight to children! Then today from Kinder Cottage being made available in a perfect hardbound child size edition at only $4 is not that painful to the pocketbook. 
Random interesting facts to know is the only the original book in the Peter Rabbit series published by Henry Altemus was by the British author, while books 2-4 were written by Duff Graham (including Peter Rabbit's Christmas) and books 5-14 as well as 16-17 and 19 were written by a Linda S. Almond (including Peter Rabbit's Easter) and lastly book 15 was written by a Charles Stuart Macleod and books 18 and 20 were written by a May Wynne. All were illustrated by a variety of artists. This whole series of 20 books was published from 1917-1931. At this time Kinder Cottage is bringing back the first ten books to publishing to make them available to kid's all around.

Peter Rabbit's Easter
Pages: 56 Hardcover 5×7″
Date Published: 2013 (Orig. 1921)
Publisher: Kinder Cottage Publishing
A well crafted hardback adaption of an original book published by the Henry Altemus Company in 1921. Color illustrations are lovingly preserved and text is faithfully updated. This is the sixth of ten stories of Peter Rabbit re-published by Kinder Cottage.
WordPress seems to have eaten my review that I wrote of Peter Rabbit's Easter previously, so let me try again. Perhaps that is good, because my first thoughts to the page were not exactly positive. While now my opinion hasn't changed, perhaps my tone has. When I first heard of these books I was delighted. When I got my hands on them I was intrigued and interested. After reading this Easter story aloud I was far from it. It was more than halfway through the story that I was wondering what the connect to easter would be (eventually it was made, never fear) and while that was a little odd that wasn't the part that put me off from this book. This is a very long book for such a little size, which is both good and bad. But the ultimately bad part is that it uses the term "stupid" without a second thought and the favoritism between siblings is referred to again and again with no shame or direction.
Then lastly the concept of Peter Rabbit refusing to speak for fear and then finally decides to speak to explain everything plot-wise makes completely no sense and would have removed the entire dire situation from the book if he had just spoken up before. This seriously irked me. And if that wasn't enough when he finally does get home there is no punishment, no acknowledgement for his bad behavior and all is just forgotten without a bit of real remorse or even a calm reminder to behave. This made for all sorts of conversation where I had to explain to my girls never to act in such a way, that this was a very bad rabbit. None of this made me happy as I want my children exposed to characters they can emulate. Frankly, this story of Peter Rabbit I never want to read again.

Peter Rabbit's Christmas
Pages: 64 Hardcover 5×7″
Date Published: 2012 (Orig. 1917)
Publisher: Kinder Cottage Publishing
A well crafted hardback adaption of an original book published by the Henry Altemus Company in 1917. Color illustrations are lovingly preserved and text is faithfully updated. This is the third of ten stories of Peter Rabbit re-published by Kinder Cottage.
Coming into reading Peter Rabbit's Christmas I had mixed feelings. For one, I already knew how upset I was with Peter Rabbit's Easter, but for another, I knew this one was by a different author and might fair quite differently. In a way it did, in another it didn't.
The language in this one was completely acceptable, there was no foul language or name calling and the mention of a sister's overwhelming love for her brother was just minimal. However, the absolute lack of regard for discipline was still there as was the lack of remorse and a reminder to behave or appropriate punishment for wrong-doings. With this said, perhaps this particular version of Peter Rabbit is just not for me.
There are a lot of vintage books out there getting a new life these days and I know it is not the age of these books that finds material that I do not find appropriate for my children. With that said, there are a lot of books in modern publishing that I do not find appropriate, but there are a lot from both time periods that I do. These Peter Rabbit books are definitely not my cup of tea.
However, Kinder Cottage has a wonderful idea and delivers it in a great little package. The quality is wonderful and the preservation of something for a new generation is a delightful concept. I do hope they will continue to publish more and more vintage titles in the future. As is the case with all publishers, I'm not going to like every single book I come across and read, but there is a good plethora of ones that I will!
These are ideal for ages 3-9 and retail for about $4 Each.

Related Posts