Genres:
General Non Fiction

I can hardly believe that my first year is nearly over with my participation with the TOS Review Crew. I have been introduced to some amazing products so far. Today's review is an eBook that is perfectly appropriate for my beginning journey into the homeschooling world,
Preschoolers and Peace
~
(http://PreschoolersandPeace.com/). When AppleBlossom was my only student, things were fairly like clockwork. OrangeBlossom was around, but more on the lap or playing on her own. Now that OrangeBlossom has reached the same age as AppleBlossom was when she started school, but is not quite ready to "sit down" and is doing much better with creative play and learning things have gotten interesting. Preschoolers and Peace: Homeschooling older kids with success while loving the little ones at your feet (e-book) is a good bit of advice and while perfect for my situation, it would be good for mamas of older students as well with a preschooler tagging along.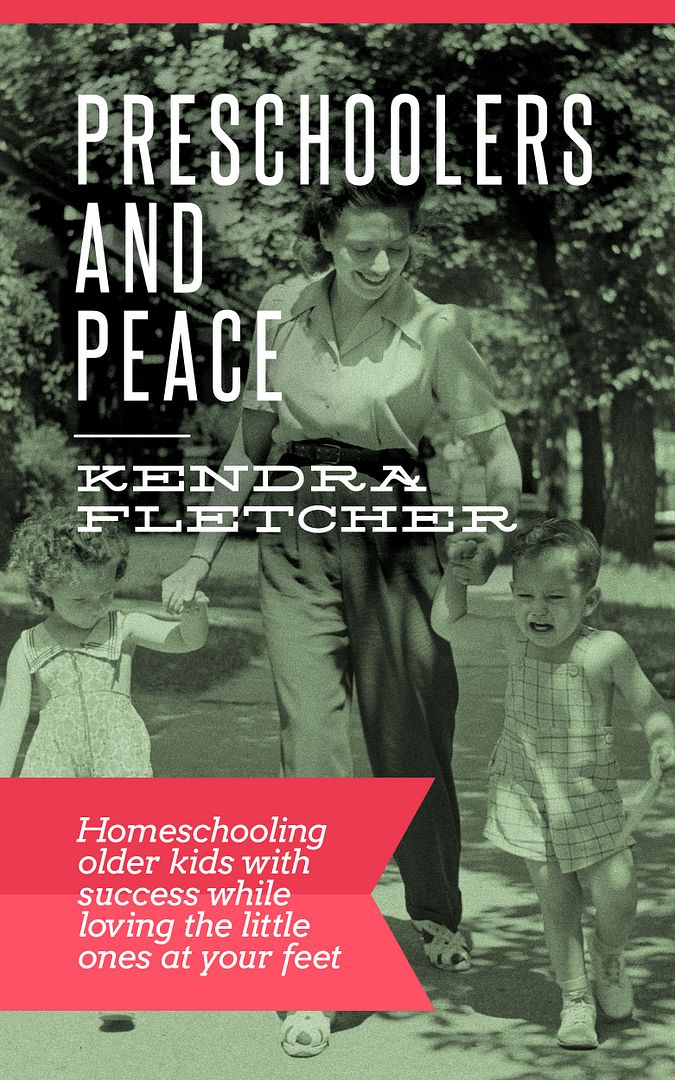 Preschoolers and Peace is a helping resource for moms. Kendra Fletcher is a homeschooling mama of eight with plenty of advice on occupying the littles while working with the olders, even if you olders are still littles in their own right.
For years, readers of the popular Preschoolers and Peace blog have asked for the "best of" the site in an eBook, easy to read and ready to go. Now, it's here!

Covering such topics as "How Do I Plan Preschool?", and "What Does a 2-Year-Old's Day Look Like?", the Preschoolers and Peace eBook packs a ton of useful information into easy-to-read, short articles that can be read on the fly by busy homeschooling parents.
The chapters include:
What a Homeschooling Mom needs
Preparing Yourself to Homeschool Older Kids with Little Ones Underfoot
Planning Around Preschoolers
How do I keep them busy?
What Does a 2-Year-Old's Day Look Like?
How Do I Get Any Preschooling Done?
How Not Just to Kill Time–Things that Mom can do with the little ones in tow
Circle Time, or How We Pull the Little Ones In
Preschool Boys
When All of Your Kiddos Are Preschoolers
Preschool Chores
Planning For Preschool
When Mama is Worn Out (or Pregnant)
Meal Planning 101
– See more at: http://schoolhousereviewcrew.com/preschoolers-and-peace-review/
I enjoyed reading the whole thing and getting advice from the heart of a mama who knows and my favorite part was the resources lists at the end. Preschoolers and Peace, the eBook is a good bit of information in an organized manner than you can get overall from the blog and more, but it's definitely worth the money to have it in an organized and searchable format in the eBook. It is currently available as a Kindle eBook and at last I checked, the eBook is $2.99. The eBook is really a "best of" for things Kendra has shared on the blog.
As my second child is getting closer to time that she'll start "school" more than just playful learning I've spent a lot of time thinking about what the next few years will look like. Whether my second daughter will just repeat what her sister did, or if I shall combine them in ways and bring her along on her own level in others. Each year I'm learning more and more about what our homeschool journey will be. The ideas for "circle time" and the chapter on "when all of your kiddos are preschoolers" are the kinds of things I need to read again and again for inspiration. Kendra shows that as a homeschooling mama of littles, we can and will feel overwhelemed but it is doable with God on your side and prayer as a tool with routines and a little bit of organization. Whether someone is just home with their kiddos for the under six years old whether they intend to homeschool through all grades or not, this eBook is a great place to start.
I received this product free for the purpose of reviewing it. I received no other compensation for this review. The opinions expressed in this review are my personal, honest opinions. Your experience may vary. Please read my full disclosure policy for more details.
Preschoolers and Peace on Social Media
Facebook: https://www.facebook.com/PreschoolersandPeace
Twitter: https://twitter.com/KendraEFletcher
Pinterest: http://www.pinterest.com/kenj/
Google+: https://plus.google.com/+KendraFletcher/posts
You Tube: https://www.youtube.com/user/preschoolersandpeace



Related Posts