Aw, Nuts! by Rob McClurkan
Genre: Juvenile Fiction / Humorous Stories
Ages 4 to 8, Grades P to 3
Pages: 32 Jacketed Hardcover
Date Published: August 26th, 2014
Publisher: HarperCollins
Squirrel loves acorns. When he spots the perfect one, he must have it! But it bounces away.…

So he jumps into a taxi, but the taxi runs out of gas. Aw, nuts!
He bounces on a pogo stick, but it lands in a hole. Aw, nuts!
He hops on a boat, gets shipped away, hitches a ride on a little girl's bike, and more! Will Squirrel be able to catch up to the most delicious acorn ever?

With his bold graphic art, debut author and illustrator Rob McClurkan will have readers laughing out loud on every page, eager to find out what will happen to Squirrel next.
Adorable illustrations and a fast paced plot keep this silly squirrel jumping. Reminiscent of the 'Ice Age' squirrel. Kids will beg for this book on repeat and I'm sure it will make a great choice for sequencing and prediction activities.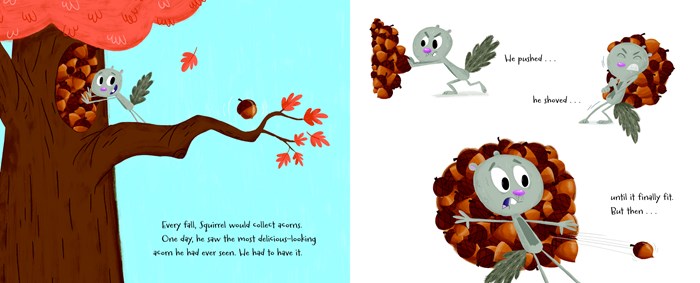 I received this product free for the purpose of reviewing it. I received no other compensation for this review. The opinions expressed in this review are my personal, honest opinions. Your experience may vary. Please read my full disclosure policy for more details.
Rob McClurkan's high school science teacher had a flying squirrel that he brought to class. One day, the squirrel made his way to Rob's jacket pocket, where he left Rob a tiny gift. This kind of mischief is what makes Squirrel the perfect character for Rob's first picture book. Rob lives with his wife and kids just outside Atlanta, where a nutty squirrel sighting is a daily occurrence. To see more of Rob's illustration work, visit www.seerobdraw.com.

Related Posts