Mary Engelbreit's Nutcracker by Mary Engelbreit
Genre: Christmas Children's Picture Book
Pages: 40 Jacketed Hardcover 10×10
Date Published: Sept. 23rd, 2014 Orig. 2011
Publisher: HarperCollins Children's Books
It is the night before Christmas! When Marie receives a handsome wooden Nutcracker from her dear uncle, she's thrilled. But during the night, something magical happens…and when her toy Nutcracker transforms into a handsome Prince, Marie is whisked off to Toyland on a winter adventure she'll never forget!

The Nutcracker is one of the world's favorite holiday stories. Now for the first time the beloved artist Mary Engelbreit offers her vision of that magical night, creating a picture book filled with joyful movement and rich detail that even the youngest child will enjoy.
Recommended to Margaret by: saw in Target
Read on December 09, 2011 — I own a copy
This time without the jacket, Mary Engelbreit's Nutcracker has returned to the shelves in a newly 2014 republication! Still in a delightful 10×10″ this classic is a must read for each Christmas season. While there are many versions of this story available, we love Mary's illustrations.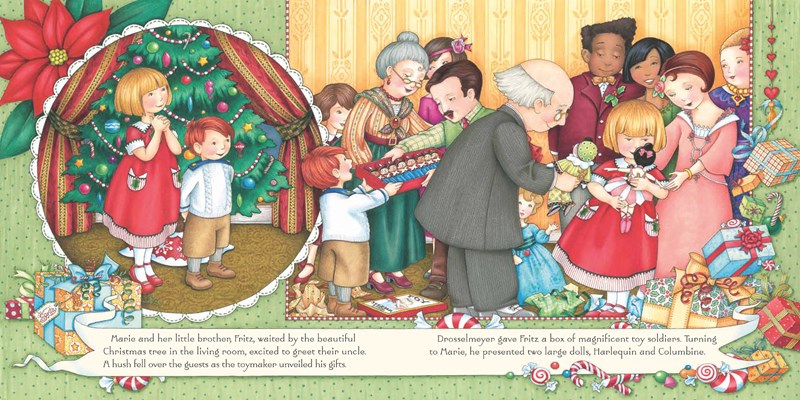 *Originally posted and reviewed in 2011*
I am purely in love with Mary Engelbreit's picture books. Last year I was delighted and enchanted by The Night Before Christmas and we've made it a nightly and annual December tradition. This year when I stumbled across Mary Engelbreit's Nutcracker in Target I just knew I had to add it to my wishlist. I thought it must be new because when I researched her books I had not seen it before, and sure enough, it's this year's treasure. 🙂
The Nutcracker is a Christmas tradition for many people. My childhood especially, I remember every year we would go to see the local ballet company put on a presentation. It was a very unique even for me as my best friend's father was an actor and one year or so found him as the magical uncle and my best friend was a dancer in the production as well. Whenever I read this story I think of Russian dancers and my best friend, so it was a delight to take a story that I've experienced over and over again and add to it my newly favorite illustrator. Reading the Nutcracker with the vivid imagination of Mary Engelbreit is enchanting. There are definitely things well different that I've seen it in my head, but it is not disappointing in the least to get her candy and gumdrop filled version.
This is a treasure and a keeper for the shelf. I'm just plain smitten.
Mary Engelbreit grew up studying the illustrations in the vintage
storybooks of her mother's own childhood, and she developed a unique style that harkens back to those simpler times. Mary's distinctive images have made her a celebrity to millions, who eagerly snap up gift items, calendars, books, fabrics, and more.
Mary Engelbreit can rightly be called the Queen of Christmas! Her New York Times bestelling The Night Before Christmas and Nutcracker are part of the holiday tradition for families everywhere. Other beloved additions to a child's first bookshelf are Mary Engelbreit's Fairy Tales and her New York Times bestselling Mary Engelbreit's Mother Goose and Mary Engelbreit's Nursery Tales.
Mary, who is the head of Mary Engelbreit Studios—famous for its greeting cards, gifts, magazines, and other merchandise—has fulfilled her childhood dream to become a children's book illustrator. She lives and draws in St. Louis, MO. Visit her on the web at www.maryengelbreit.com.
Mary's dearest wish has always been to illustrate for children. Her New York Times bestselling the night before christmas is already part of the holiday tradition for families across the country. Other treasured additions to a child's first bookshelf are her New York Times bestselling Mary Engelbreit's Mother Goose, Mary Engelbreit's Nursery Tales, and Mary Engelbreit's Fairy Tales.
https://www.facebook.com/maryengelbreit

Related Posts