Astronomy is this year's science subject.
We jumped in soon after the new year and I've been on the lookout for resources to enhance our studies. What an immense blessing it is to have discovered Visual Learning Systems Digital Science Online!
You might also be interested in:
Our Field Trip to the U.S. Space & Rocket Center

The timing for this review is absolutely provincial. Through the TOS Review Crew, we have been graced with the opportunity to review Visual Learning Systems  –  (http://www.VisualLearningSys.com). We have been given a full year access to received Digital Science Online: Elementary Edition (Grades K-5) and the Secondary Edition (Grades 6-12). What a resource this has proven to be! (and we have only scratched the surface…).  The Visual Learning Systems  catalog contains over 250 video programs…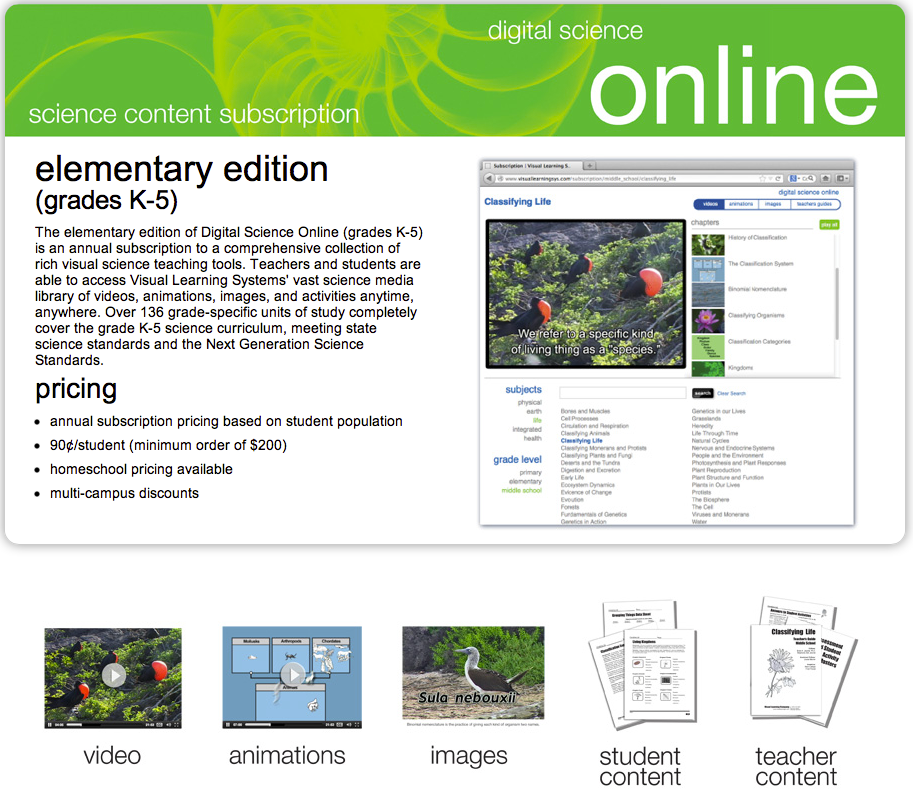 For the purposes of our studies and this review, let's focus on the Primary Level found within the Elementary Edition in the Subject Earth and the theme of Sun and Stars. However, I've found teacher bliss in the fact that I have more options in our studies within the Primary Level under the Subject Earth of: Planets, Sun and Stars, and The Air Around Us. There is more within the Elementary Level under the Subject Earth of: Earth's Nearest Neighbors, Earth's Rotation and Revolution; Exploring Earth, Sun, and Moon; Our Distant Neighbors, Stars and Galaxies. Next level up, there is more within the middle/high school level under the Subject Earth of: Sun, Moon and Stars, The Amazing Universe, The Atmosphere, The Inner Planets, The Outer Planets. I believe we could do so much reinforcement with this for our purposes, but one could possible make their studies surround this program as a basis. 
Visual Learning Systems' is an educational science publisher whose mission is to provide high quality, visual-based content that instructs, challenges, and inspires students. The use of videos, interactive graphics, animations, and images are essential in teaching science. There is no better way to learn about the workings of the human body, the forces creating earthquakes, or the nature of chemical reactions than with these powerful teaching tools. Purchase Visual Learning's K-12 units of study in DVD or Digital formats (English or Spanish), or subscribe to Digital Science Online: Elementary or Secondary editions.

My daughter, AppleBlossom, is what we're calling K5 this year, however she is doing mostly First Grade work. We are reading, narrating, and notebooking Apologia Exploring Creations Young Explorers Astronomy and I have spent countless hours looking for videos on YouTube and Netflix for us to watch to show examples of what we're learning. When I find something recommended from someone I then have to watch it myself before I can allow my daughter to view it as not everything out there is kid-friendly. I want interactive informational material to share with her to expand our studies and all of the sudden it is completely in reach with Digital Science Online. All of my preparation work for our viewing purposes has been done for me.  It is trustworthy and even on a level appropriate for her from everything I've seen. And add to that it is interactive! There is a pause for question response and optional worksheets to go along as well as some activity pages. I'm in awe.
We have chosen the theme studies on our topic and we're spending more than three days a week delving into these scientific matters.
On the first day, we read in our text (about what is astronomy and the Sun) and decide that we want to watch a video on the Sun and Stars.  We've explored our options and have found many ways to make this work. 
We can watch on an old PC laptop. 

I can set her up to watch on her Kindle Fire HD 6.

We can watch on both the new iPad (3rd?) and old 1st Gen iPad. 

It has also worked without a catch on my iMac desktop. 

If we still had a PC desktop hooked up to the living room TV I'm quite certain it would work well in addition. 
Generally we have been using a Chrome Browser, but apparently things also work well for us in Safari and Amazon Silk. We watch our video, and then I let her explore and watch it again if she wants. I've heard her in the next room responding to the questions and pauses the video  has built in for response. 
In our next session we use the pages from the Teacher's Guide including some of the student worksheet and activity pages. If you asked me before I'd tell you about my negative feelings toward what I call electric or online school, but this is more a warm and fuzzy feeling… I download the Teacher's Guide PDF while logged in under my Teacher's ID on the iPad and save it in iBooks, but we have lots of other options to read PDF format as well, I could even print it. While logged in under our Student's ID on the iPad and save the student individual worksheet pages by choosing to open in Notibility. This is where we have made it really fun. Using a tablet stylus pen, AppleBlossom can write her answers on the worksheets, or I can scribe depending on her mood and our plans for the day. (Right now, for the most part she can read and write!) So eccentially we have made this fairly paper free and can use it all on the go as long as we have internet access. 
The video is content rich with many vocabulary words. It enriches our current studies and provides valuable material for our educational purposes. It explains and highlights things in a visual manner that I could never do justice to in just my organized discussion. There are literature connections which we have yet to explore, but I find that some other topics do have titles we own in our library that I'd gladly set aside to dig deeper. 
In the Teacher's Guide there is a red box with vocabulary words to highlight as well as a video script to help me as a teacher prepare and follow along. Here I can easily know when I might want to pause and discuss something further. There is even a video review and video quiz and of course a beloved answer key to all student questions and pages. 
Finally at another time we would often watch the video again, discuss the worksheets and finish any that we had not already as well as partake in an activity page if she was up for it. On this day I love to use the feature where I can specifically go to an image or animation for further examination and exposure. This has really made our lessons so much more interactive on a level I never would have been able to reach otherwise without the benefits of DSO. This type of preparation would have taken me hours upon hours and still would not have been as great as that provided by these short videos. 
Things that I'd want to know..
There are two places on the Virtual Learning Systems website where you may log in. For these purposes it is not the "members login" but the DSO, or Digital Science Online login. This program is available for schools, but there is special homeschool pricing ($99 for a full Level when I checked!).  There is a DVD and VHS option in lieu of Online.  There are three Levels, Primary and Elementary and the combined Middle/High School Level. Under each Level there are Subjects (ie: Physical, Earth, Life, Health). Under each Subject there are theme topics aplenty.
While using the iPad we were not able to figure out how to open the video full screen, it would appear and disappear before we could click it. However on every other avenue (including the kindle Fire HD 6) we were able to full screen view the videos. We were able to view the videos in both landscape and portrait angles.
The program is approximately 10 to 12 minutes in length and includes a
five-question video quiz. Answers are not provided to the video quiz in the
video, but are included in this guide on page 9. You may choose to grade
student quizzes as an assessment tool or to review the answers in class. 
At first I was skeptical, as always with "online school", however I've been made a believer. I'm not a fan of using the technology as a babysitter for our studies, but as an aide to enhance and enrich our lessons I'm all for it. That is exactly what I have found to be ture. Visual Learning Systems Digital Science Online is truly very neat and a valuale tool.
Connect with Visual Learning Systems on 
Social Media:
Facebook – http://facebook.com/visuallearningsystems 
Twitter – https://twitter.com/visualearning

Related Posts