Chu's Day at the Beach by Neil Gaiman
Illustrated by Adam Rex
Genre: Juvenile Fiction / Animals / Bears
Ages 4 to 8, Grades P to 3
Pages: 32 Hardcover 8.5×9.5″
Date Published: April 21st, 2015
Publisher: HarperCollins
A brand-new adventure for everyone's favorite sneezing panda, from the New York Times bestselling team of Neil Gaiman and Adam Rex

Chu and his family are going to the beach!
Chu is excited.
He will get to play in the sand and wade in the water.
But what will happen if Chu sneezes at the beach?
And what will happen if he doesn't?
The New York Times bestselling duo of Neil Gaiman and Adam Rex are excited to bring you a brand-new adventure for Chu, the adorable panda with a colossal sneeze!
.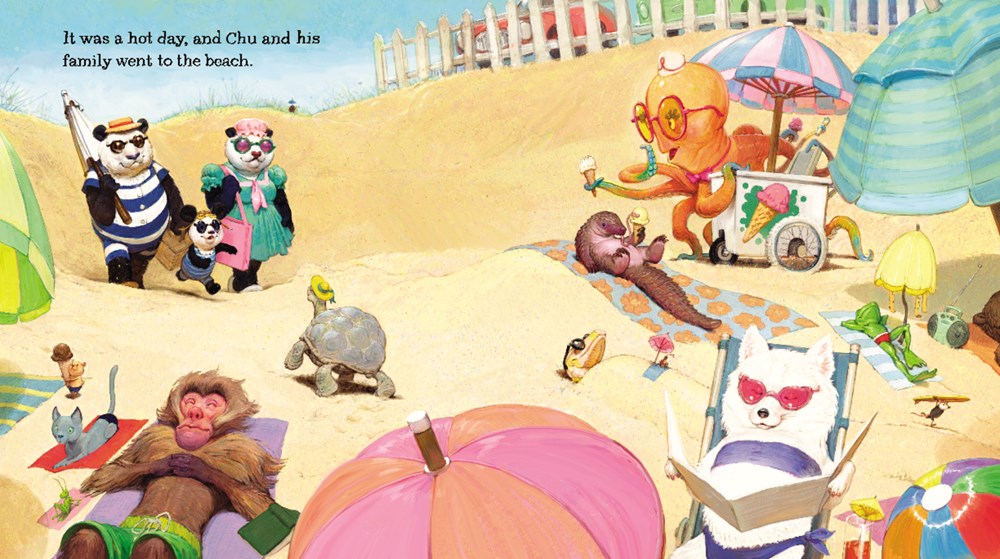 Neil Gaiman has written award-winning books for children and adults, including the only novel to win both the Newbery and Carnegie medals, The Graveyard Book; Fortunately, the Milk; Coraline; Stardust; and Odd and the Frost Giants. His picture books include Instructions and Blueberry Girl, illustrated by Charles Vess;The Wolves in the Walls, The Day I Swapped My Dad for Two Goldfish, and Crazy Hair, illustrated by Dave McKean; and The Dangerous Alphabet, illustrated by Gris Grimly. He is the author of Chu's Day, which debuted on the New York Times bestseller list, and Chu's First Day of School, which are the first books about Chu. You can visit Neil online at www.mousecircus.com.
Adam Rex is the author and illustrator of the New York Times bestselling picture book Frankenstein Makes a Sandwich, among others. He illustrated the New York Times bestseller Chu's Day and Chu's First Day of School, the first two books about Chu the panda. He lives in Tucson, AZ, and suffers from seasonal rhinitis. You can visit him online at www.adamrex.com.

Related Posts