In our experience so far we have been extremely blessed with our math curricula and AppleBlossom is staying on target, but it is still early and in the future we will most likely need to know our options if she or her sister just doesn't get it (already I can tell that teaching her little sister is going to be a patience-testing endeavour). The online software of A+ Interactive Math ~ (http://www.APlusTutorSoft.com) comes from a neat company with lots of products available. One such product is the Adaptive Placement Test and Individualized Lesson Plan, this is a three month subscription. For the purposes of this review, I was blessed with access for two students and we found that it was all completely above OrangeBlossom's preschool and basic kindergarten level and nearly so for AppleBlossom, but we kept on with her on the First Grade level.
More Information from Vendor: Top 12 Reasons to do Adaptive Placement Test w/Lessons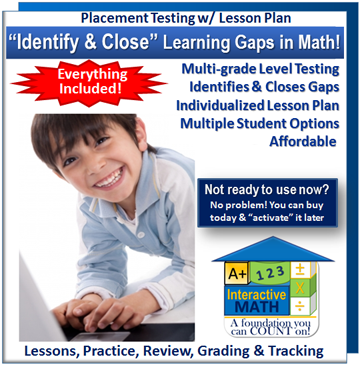 We ran into a few issues, including the formatting of our names such as the student name says [First First], instead of [First Last] and on another section of the site it just says [F last] (notice capitalization or lack there of), but obviously nothing that really messes with our testing and review.
Having AppleBlossom participate was quite easy. Using our 1st generation iPad on wifi, I would head to the website and login under her student username and password. Then after a time or two, she learned which "Launch" buttons to push to get to her tests. On the tablet she was able to complete her tests with little to no issue (outside of incorrect answers on her part!). However, we were not able to access any of the tutoring videos, lesson plans, or interactive Q&As on any mobile device. I was later informed by the very diligent customer service that mobile devices were not supported. Alas, we jumped on a Linox based laptop or my iMac desktop, logged her in, and away she went with her tutoring. (It is my understanding that it works well with PC based computers as well, as it is an internet-online based program.) One thing to note is that it involves multiple pop-up windows.
After AppleBlossom was to complete a test or section, I could login (again on an actual computer, not mobile device) to my parent account to see her status. From here at a glance due to colorization I could see a basic idea of where we stand. Frankly, I was astonished. In our text and in our previous math experiences, I've found that she is doing really well. Around 90% or so. There is more to learn in some places, but I was very surprised to see that nearly every topic considered her to be below 1st Grade Math level. From the parent/teacher's dashboard I was able to see her attempts, her questions, her answers and discuss with her the problems she got wrong. What amazed me was that for some topics there was a mere 6-10 questions that was suppose to give an idea on whether she had mastered a selected concept. Honestly, I do not think that is a large enough sampling. As the Enginerd said, he thinks there is a reason big scholastic tests have dozens-to-hundreds of questions.
In the circumstances where she went from a "not a grade level" attempt to being "at grade level", I had full access to see where she improved and of course dates to show me where she worked on it and so on. What I have found is that A+ Interactive Math is designed to grant a multisensory learning experience. The short tests gave me a glance at where my daughter may need a bit more work on certain concepts and the idea behind the individualized lesson plans sounds very valuable. In our experience over the last several weeks, it does give me a direction to seek, but I have not found that tutoring portion to be very helpful for us. It was shocking that with missing a single question, more than two dozen tutoring topics would appear. Many of which she was definitely a master at, as opposed to related to the one question and thus frustration for her and myself ensued.
It is meant that A+ Interactive Math and the Adaptive Placement Test is a tool for improving math skills and finding gaps. I think the potential is there, but with the complete simplicity of the mini-tests it is not in depth enough to give a true sampling of missing concepts in my child's skill base. Our experience for math has often been joy, but this brought on discouragement for both AppleBlossom and myself. I think perhaps for students in higher grades it might be more useful. It may be that our math curriculum is truly not up to par. It may be that she takes after me and is just a poor test taker. It may be that the miniature tests are just not enough. But for us right now it just was not a good fit.
Limited Time Sale!
Right now A+ Tutor Soft is having a 2-week 40% – 50% off sale on their "Family Math Packages" and "Adaptive Placement Testing w/ Lessons" program starting on Monday May 4th. Start Date: 5/4/2015 – End Date: 5/18/2015
During the CurrClick Stock Up Sale starting in January 2016, A+ Interactive will be 40% off! *This post contains affiliate links. Your purchase will bless the Creative Madness Mama family. This sale will run from January 5-19th. Please consider our links.
A+ Tutor Soft wants to make sure you know they offer lots of freebies for homeschool families to try to make sure their program is a good fit for you before one makes a purchase. One of their most popular freebies is a math placement test!

Free Math Placement Test: http://www.aplustutorsoft.com/get-free-homeschool-math-curriculum-placement-test-online.jsp
Connect with A+ Tutor Soft on Social Media:
Facebook: https://www.facebook.com/APlusTutorSoft
Twitter: https://twitter.com/aplustutorsoft
Pinterest: http://www.pinterest.com/aplustutorsoft


Related Posts