There are a handful and then-some ways to educate in the homeschool realm of teaching. One of which is unit studies and has you asked me a year ago or perhaps even a few months ago about unit studies I would have said no thank you. Now, when an opportunity came from Homeschool Legacy ~ (http://HomeschoolLegacy.com/) to review a nature study 4-week unit study called Forest for the Trees I decided to dip my toes in to see what all the fuss was about in this method of learning and teaching. My eyes are opened. I think I'm ruined for life, because I'm hooked and so excited about the possibilities we will have in our next plethora years of learning!
One of the things that pulled me in was the mention of earning a scouting badge while working on the unit study. As you might have noticed in previous posts, we're now involved and invested in being a Pioneer Troop of Frontier Girls. While Homeschool Legacy mentions badges appropriate for American Heritage Girls, I was able to run with enthusiasm to our list of available and possible new Frontier Girls badges!
What I received for the purposes of this review is a 32-page PDF document that I promptly printed and bound with a slide-on spine (left over from my college presentation days). For the duration of the 4+ weeks we're spending on this study it works very well. I could have left it as digital and referenced it on a mobile device, but we're always short on battery life there, and I much rather having paper in hand to write notes upon. I read through it all myself, and then started making notes. I checked off book recommendations that I hand on hand and I wrote down others that I had that fit in the topic, then I checked out the library database of our local library and inter-library loan to see what might be available and lastly I checked out a used book seller online for purchasing certain titles. I also found a few titles in the open domain online.
In the Forest for the Trees Once-a-Week Unit Study, I had on hand the first family read aloud from my youth, My Side of the Mountain but I did not have the second one mentioned, A Place for Peter, and wasn't able to find it for a price I could agree to. However, I do have the sequel On the Far Side of the Mountain as well as the prequel to Peter in Mountain Born so we were able to make decent substitutions in our reading aloud time. The unit study itself is pretty open-and-go, but I found myself on a research and preparation kick so with the links and websites mentioned and topics at hand I set off and made myself a ridiculous pinterest board for visual inspiration all based on the plans set up in the Once-a-Week Unit Study. Of the studies available from Homeschool Legacy, they are all available in digital grab-n-go format as well as physical to order. In my opinion, digital is completely the way to go. I was able to print what I needed and write notes in hand, but I was also able to pull it up in iBooks on my 3rd generation iPad and click links to go where we wanted to virtual field trip explore.
Our plans for the purpose of this review was to use the unit study for three days a week. As it is written in a suggested guideline it's about five days a week. I found that for us, it became a daily thing. I soon found myself thrilled and excited about the reactions that both my girls were having. Interaction in daily life was showing that the girls were both really learning and paying attention to what we were reading and discussing in our study. I also noticed that now that I was experiencing what a unit study was really suppose to be that in a way we've been doing little mini unit studies all along with our main core curriculum in an enrichment program and guide. With the foundation of Homeschool Legacy's Once-a-Week Unit Study Forest for the Trees I feel inspired about our learning possibilities and encouraged to run with enthusiasm to topics that inspire and delight. I've always been a look up a plethora of books for whatever we're studying kind-of gal… I just didn't realize that was a basis for unit study.
In the Forest for the Trees, there are four weeks planned. Everything is optional, but written out very well and detailed. (I've since looked at other free unit studies online from other places and they do not compare to the well organized and heart of Sharon's program.) I've found myself to be a fan of Homeschool Legacy and would love to jump to collect all the unit studies for our future studies! (I was delighted to find a few mini-units included under the name of Hands-on History through SchoolhouseTeachers!!)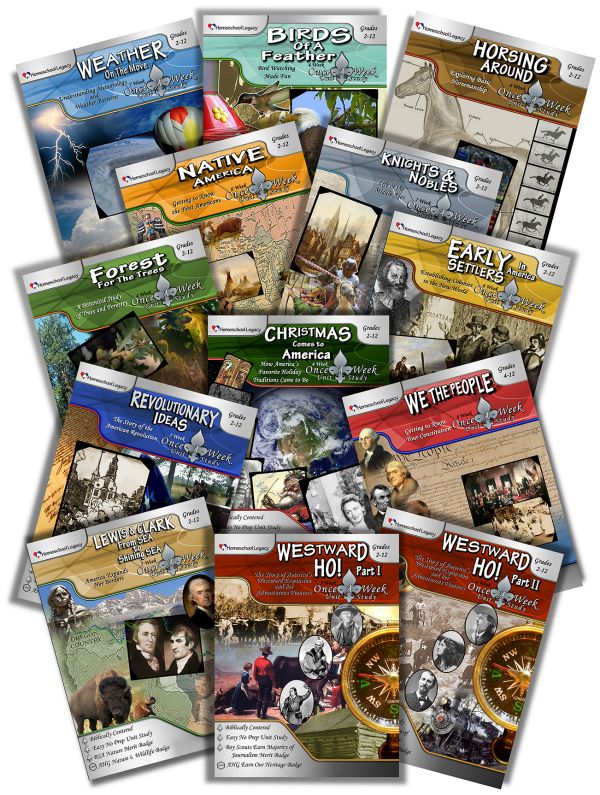 Forest for the Trees
is written and suggested for grades Second to Twelfth, but was have been using it very successfully as a family with our First and Pre-K children ages five and three respectively. The Enginerd is always outside in our wooded yard and knows bits and pieces, and now being able to introduce my girls to a topic where they can connect with him and share their new knowledge makes my heart smile. This study is divided into four weeks with a new topic covered each week including: Tree Identification, Tree Anatomy, What Trees Give Us, and Forests and Forestry. We've had so much fun in the first two weeks, that we decided to keep going with it and expand reading more, discussing more, and all around keeping the topic alive and thus we'll spend more than the scheduled four weeks on trees. Our study for trees connected us to history and biographies of people who discovered trees such as the Giant Sequoias and those who protect places like the Petrified Forest National Park. We've had experiments on osmosis, photosynthesis, and botany growth. We've connected with our imaginations to the idea of living in a tree and surviving in the wilderness on only what nature has provided. We've read chapter books, picture books, and children's non-fiction books. We've watched movies both documentary and animated on nature conservation and the effect that trees have on our own human lives. We've branched out into discussing the biomes and habitats that trees are a host to for a plethora of God's creatures and have talked about the food chain and life cycle of those within… who knew we'd turn to zoology too?
You can use the unit study in any way that you see fit, but there is a suggested schedule which is along the lines of three days of your daily studies and add to that a unit study read aloud and general book list. Then one day of unit study only and one day of the three (or four) R's and unit study and maybe a field trip.
Connect with Homeschool Legacy on Social Media:
Facebook: https://www.facebook.com/homeschoollegacy?fref=ts
Pinterest: http://pinterest.com/hslegacy
Twitter: http://twitter.com/homeschoollegac
Badges earned:
Discover Outdoors
Related books:

http://creativemadnessmama.com/blog/2014/10/17/rainforest-kate-duke/
http://creativemadnessmama.com/blog/2015/04/10/the-secret-life-of-trees-dk-eyewitness-readers-level-2/

Related Posts