The Book of the Ancient Romans

by Dorothy Mills
Series: Memoria Press Classical Studies

Also in this series:
The Iliad
,
The Odyssey
Also by this author:
Ancient Romans & Virgil Lesson Plans
Genres:
Educational Resources
,
Homeschool Textbook
Published by
Memoria Press
on August 1, 2011
Pages:
436
Format:
Paperback
Source:
Homeschool Review Crew
Well known to the Classical Education world, Dorothy Mills wrote in the 1920s a set of history books for the middle grades. These books have now been refreshed and republished with added illustrations by the creative minds at Memoria Press. The Book of Ancient Romans starting with the early peoples of Italy and the founding of Rome and rounding out at the decline and fall of Rome provide a historical avenue with 26 lessons plus five review lesson and unit tests to educate the mind on Roman history.

Memoria Press
~
(
http://MemoriaPress.com/
)
is the company known for their Latin curricula, but in the past few years they are providing so much more for education in cottage schools and homeschools everywhere including their histories and classical studies, especially their programs on Rome including Famous Men of Rome Set (Grades 4-8) and 
The Book of the Ancient Romans Set
(Grades 6-12).
Memoria Press is  making a name for their publishing company in the Classical Homeschooling method with their Classical Studies Programs. They have several topics available and the ones highlighted in this review for the Review Crew are divided between two typical age ranges including some adult study. For my review purposes, I have been blessed with a physical copy of The Book of the Ancient Romans Complete Set which I planned to use three times per week for the review period, which works out well – I'll get into this in a little bit.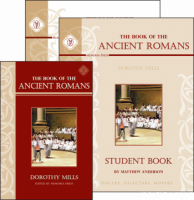 The Book of the Ancient Romans Complete Set includes:

Text
Student Workbook (consumable)
Teacher's Manual

(The Dorothy Mills text, republished by Memoria Press is also available as an eBook.)
Samples of each book may be found on the Memoria Press website.
Whether you are an eclectic throw-it-together-yourself type of homeschooler or following a plan, Memoria Press has some amazing products that might be a perfect fit for you. If you've been around my blog at all, you might have caught on that I'm quite the fan of this company. 😉 If you follow the Memoria Press Classical Core Curriculum plans in the 5th Grade you will come across Famous Men of Rome (or in Accelerated 4th Grade Curriculum), however it is around the Accelerated 8th Grade when you'll come across The Book of the Ancient Romans in the course of study. Following my own plan of three times per week with a day off that here-and-there it is about sixteen weeks of study that I'm looking at. Memoria Press has individual lesson plans available for The Book of the Ancient Romans & The Aeneid which will round it out to a full year, by the way!
When the opportunity came around to get a possible review of this set I was enthusiastic to say the least, but this is not for my primary or preschool aged children. This time the curriculum is for me. For my own adult edification. You see, I'm proud to be a life-long student. While I may have a bachelors of religious studies, it is within that minor of history that I have a continuous passion (explains my love of genealogy too!). I did not grow up with a Classical education, which in my hopes to raise my offspring with a Classical Christian Education I'm learning myself before I teach them. When we get there, my plan is to use the products edited and developed by Memoria Press and I'm delighted to be able to observe them now and attempt my own scholarly wiles.
Opening up the Teacher's Guide first, I was looking for instructions, but it's not that kind of hold your hand type of manual. The Teacher's Guide is a reprint of the Student Manual with all the answers filled in, as well as maps, map keys, tests and answer keys. The Student Manual with plenty of space to write is a set of forms with sections that include facts to know (with plenty of space for a doodle or notation), vocabulary, comprehension questions from the reading, and even some activities such mapping or continuing a timeline. Specifically there are five reviews, five tests, and one final exam covering a time frame of 753 BC to 476 in about 26 lessons spread over 2-3 days per week giving you a full semester.
It was in the 1920-1940 time frame when Dorothy Mills wrote a set of history books for middle grade students and with the curriculum developed around the Memoria Press edited copy of the book (with superb added illustrations and b/w photos!) and guides your student can experience her teaching words a new. While it is said that these books are for grades 6-9, leaning toward enhancing a high school curricula or even an adult furthering education this material is grand. I had in mind a lot of Roman history before starting this course, and yet I'm astonished by the things that I have learned while reading in Dorothy Mills' narrative style. She is informative, yet there is personality on the page that keeps the reading far from dry.
Let me tell you a little bit about what I have in hand. The Teachers' Guide and Student Manual are a standard 8×11″ with a glossy cover like most other Memoria Press materials I've handled. The Teacher's Guide has a label on the spine, but my Student Manual spine is blank and this book is consumable. But the giddiness for me in the physical product in hand is the actual text, Dorothy Mills' The Book of the Ancient Romans – it is buttery soft and vibrant with a burgundy wine hue chosen for the cover. (This is my first of Memoria Press' books of this texture to me and I do hope it's something they continue!) It's about 6×9″ in size and perfect to hold in hand. The pages are all a great quality and I see this text holding up on the shelf well.
Connect with Memoria Press on Social Media
Facebook: https://www.facebook.com/memoriapress
Twitter: https://twitter.com/MemoriaPress
Pinterest: https://www.pinterest.com/memoriapress/
Google+: https://plus.google.com/u/0/+Memoriapress1/posts
Instagram: https://instagram.com/memoriapress/

Make sure to check out the parts of my Kindergarten review in posts!

You might also be interested in Junior Kindergarten.
Part VI – Crafts

Related Posts