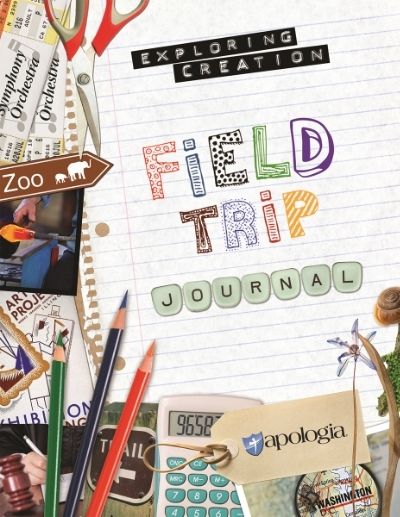 Exploring Creation Field Trip Journal

by Rachael Yunis
Series: Exploring Creation


Also in this series:
Exploring Creation: With Astronomy, 2nd ed.
Genres:
Educational Resources
Published by
Apologia Educational Ministries Inc
on March 2015
Pages:
64
Format:
Paperback
Source:
Homeschool Review Crew
Buy from Publisher
Are you looking for a fun way to record your field trip adventures? Physical or virtual, the Apologia Exploring Creation Field Trip journal is a great tool with everything you need! Consisting of more than one hundred field trip ideas, check lists for teachers and students, maps, and a plethora of pages to record memories for keeps; this journal is a treasure trove to revisit again and again.

I ponder all your great works and think about what you have done.

Psalm 143:5

I have been a huge fan of
Apologia Educational Ministries
  ~ 
(http://www.Apologia.com)
since I was a long-term substitute at the Classical Christian Education private school nearly seven years ago as they use the Apologia science curricula there.
Last year I got my first taste with my own children using their Biblical Worldview curricula
and this year I'm so excited to share their
absolutely brand new
Exploring Creation Field Trip Journal
which I have blessedly received for review. We are also going at our own pace, with our purchase, using the
Exploring Creation Astronomy
and the matching Junior Notebooking Journal as well currently. So far every experience with Apologia texts has been incredible, thus I'm not surprised at how amazing I have found the
Exploring Creation Field Trip Journal
to be.
When the journal arrived in the mail I found myself to be very excited anticipating the learning opportunities that we would be creating and recording for ourselves, both in the next few months as summer begins (we school year-round) but also in the general future. I showed my oldest daughter (currently AppleBlossom is five, nearing six this summer) and she was squealing enthusiastic. She can read now *boast* and thus was delighted to see what it was I held in my hands. The next day was a Sunday and I was working in the church nursery and took it with me to preview. In the car on the way home I read through it and discussed it's purpose with the Enginerd and we brainstormed ideas of field trip locations. (Amusingly he was very adamant about his own participation in our field trips, oh the woah-is-me of having to share the educational and memory experience with one's beloved father and husband. 😉 )
The journal itself is a slick durable-covered 8×11″ spiral bound book. Each page is heavy-duty card stock in full-color with a neat design (much like a journaling blog template) set for writing in. We found that pencil or pen works great, we can even use some of our sparkily gels if we leave it open for a minute for full drying before closing or turning a page. The book is the entire of the resource, but additional printable pages and links to field trip ideas are available online with a special link and code included in your journal. Within the book there are enough pages to record ten different field trips full details as well as even more pages within an As I See It section for drawing and share thoughts on a nearly typical blank page (including minimalist prompts) with plenty of space to let your thoughts onto the page. In the front of the book, there is a two-page spread with details on Preparing for a Field Trip with check lists for both students and teachers that contains lots of common-sense things you already know, but saves so much time instead of having to write it out yourself or possibly forget something!
I think Apologia has really tapped into something incredible here! After spending so much time in this Field Trip Journal I think I'm going to have to take a look at the planners, because Apologia really has put together something incredibly useful here. Field trips have been something that I've wanted to include in our routine, but it's usually out of sight out of mind. But this summer is when the local museums provide a deeply discounted trial membership and we jumped for it. We visited the touring Columbus ships of the Nina and Pinta when they visited on the Mississippi River. In addition to our trip to the U.S. Space Center & Museum (Space, Aeronautics, astronomy, and a special visiting exhibit on inventions) and Sci-Tech Children's Museum on our road trip through Alabama, we've been to the Brooks Memphis Museum of Art and we've also ventured to the Lichterman Nature Center (pond life and forestry), as well as the Pink Palace Museum (life sciences, earth sciences, Memphis history, history exhibits, and a visiting exhibit on Wicked Plants).
Of course, I suppose we cannot forget our field trip to the library to get a library card (not that we'll go back much…). We've also opened a dialogue about more places we would like to visit. There is a planetarium in the Pink Palace that we might have to visit another time as well as an IMAX theatre. We're hoping to plan a trip to the Memphis Zoo, Tennessee Aquarium, and maybe a local fire station. This as opened up an excitement in us that is wonderful! We're seeking opportunities to go out and learn more than just books and film.
For our family purposes, this is a family journal. I'm writing up our trips we've made this year and using the possibility pages in the front for ideas of things to come. It's possible that if there is space left when AppleBlossom is into keeping her own that I might hand this one off to here. If my children were older, I wouldn't hesitate to hand them their own journals to keep track. I'll never forget in my big school trip to the District of Columbia in Seventh Grade the journals that were kept then – I think field trip journals are a powerful tool both in memory making, but also in discovering knowledge and discovering things about yourself. This is definitely a pretty package of one and durable to boot!
You can head back to see our thoughts on the U.S. Space Center field trip, a picture memory of the Brooks Memphis Museum of Art and look for more posts to come on further Field Trip Fridays around here, including our Frontier Girl badges earned.
 Support Creative Madness Mama and her students by buying through our Apologia link:
http://shop.apologia.com/?ref=cherryblossommj…


Related Posts