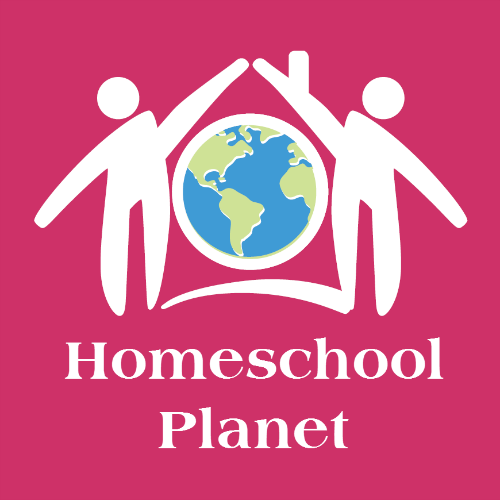 The last few years I have found myself a member of the free Homeschool Buyers Co-op  ~  (http://www.homeschoolbuyersco-op.org/) and have truly enjoyed the resources they have offered and brilliant deals I have discovered through their organization. For a while I have had my eye on their pet project and thus when an opportunity came up to review their program Homeschool Planet for a full year I found myself ecstatic! This is entirely online and is a complete homeschool/life planner and I will have access for one full year. I have become attached. Frankly if I'm online, I'm logging into Homeschool Planet.
We have been able to use this program in numerous ways. My favorite and most typical forum to use Homeschool Planet has been on a Linux Ubuntu based laptop running Firefox. However we have successfully used Homeschool Planet through a 3rd generation iPad in Safarai, iMac desktop running iOS X+ in Chrome and Supervised Chrome, as well as my iPhone 5C in Safari too. I have never had any technical issues logging in, and whenever I had an issue of any technicality it was usually fixed within a day from feedback and a little programmers note was right there on my sidebar to keep me informed. There has been a bit of text overlap when I've logged in through mobile devices, and currently you cannot add new assignments, but that's a feature they plan on adding to mobile access in the future.
To use Homeschool Planet you must be a member of the Homeschool Buyers Co-op. If you are not already a member please consider joining through my referral link so that I might receive a few credits for directing your there. – Margaret

The Homeschool Buyer Co-op is a free homeschooling organization for both new and veteran homeschoolers. Co-op membership is free and confidential, and entitles homeschooling families to discounts from hundreds of educational suppliers. The Co-op also sponsors "GroupBuys" for curriculum packages that can save homerschooling families lots of money. On the site you'll find lots of free information, such as databases of free curriculum, field trips, and educational contests and scholarships.
To use Homeschool Planet, I changed my website opening home page to the login panel. On my profile on the Linux Ubuntu laptop computer it opens to my parent planning page where I can schedule and plan, and adjust as necessary. On my students "Blossoms" profile on the Linux Ubuntu laptop computer it opens to AppleBlossom's profile where she can solely see what is on board for her plans.
There are so many things I want to jump to tell you about here! Let me take a breath and decide on my tangent…
Homeschool Planet is customizable, you can choose your color scheme and I have been changing mine from time to time to reflect my mood or for a change of environment. AppleBlossom is all blue, while I'm elegantly floral. When I first log in, a pop-up Rescheduling Helper alerts me to planned events that have not been marked as complete and I have options from rescheduling to ignoring and more in between. Then the Grading Helper pop-up does the same for planned activities that have yet to be graded. This is the main way that I interact with the gradebook portion of the planner. My opinion on this is still out, because I would like to have an option to just open the gradebook at a glance, but otherwise you have to open each course/class to be able to see the grades for each. There are great options to combine two classes for an overall grade, which is awesome, but like I said with the gradebook my opinion is still out.
On the sidebar, the user can choose and move around which widgets you would like to see and interact with the most. There is a sidebar and a bottom bar where you can place widgets. I can see room for growth here as they might add more widget options in the future. For now, I'm very pleased with the Co-op info, quote, scripture, and to do list. The to-do list is something I use for my own review schedule purposes. Actually with the option for my own calendar as well as my students I have added in my own courses and classes that I'm pursuing in my affluent mama-time. (Obviously at this point with little I have not gotten much accomplished, but that is another point where the rescheduling helper is a true helper!)
There are a couple of different views you can take. Between Calendar and Planner, my preference is the Planner view and on Today. This way it appears much like a check list for us to go down. I have found that if I'm looking everything for a week, I start to get a bit panicked. When a planned event has passed it is still visible but will take on a grey hue. Also the check box will turn red. If you click the box once it will turn green as marked complete. Or, a very cool option, if you click the box twice it will shade half yellow/white to show that it is started but not yet complete (and you can even attach a date to this) for something like an on-going project or big assignment that takes more than one day.
My favorite part is…
The fact that I can add website links into the planning progress. Thus, she can log in (using her Tocomail email address) and she can click through to do her self-paced courses from VPSA. Or she can choose which online math she wishes to practice with on a particular date. Then she can click the check box to let me know when she has completed an assignment. I have her sister's assignments written in there as well. So she can see when she is suppose to read her sister her read aloud book for her Preschool assignment and she adds that on to her reading time for her First Grade reading time. Her little sister does not have access to the planner or computer, but she can mark events accomplished for her such as flash cards or things she does with an app on a mobile device. AppleBlossom also gets a reminder email (as do I) about events coming up for the day.
Setting up the courses for the planner takes a bit of un-distracted time, but is fairly simple to do if not time consuming. It is so much easier than other certain online homeschool planners I have experienced in the past. There is not a steep learning curve with this one.
There are Report options available for printing from the typical transcripts, to assignment lists, class notes, grades, and credit hours. A lot of these options we do not currently use, but I can really see how valuable they would be in the higher level grades. I love the assignment lists for the idea of having a technology free day (because logging into a computer can be so distracting some times!). You can also print the calendar planner as you see it in black and white or full color in addition to the assignment lists I mentioned. And I also think the fact that you can print things by choice either by student first or by class first makes things look very easy for people who might have students sharing a class and to deal with that all at once, rather than just one student at a time. But either way is available!
The School Year is easy to set up with holidays and vacations previously scheduled in.
Grading scales are easy to tweak and configure to your needed specifications.
It is easy to Share in Calendars from outside sources such as Google Calendar!
Final thoughts:
The gradebook is completely usable, and printable grades are available at a click. I think it is just that I prefer a different format that I have found. Outside of the gradebook, the planner is better than any I have seen thus far.
In comparison to some other online planners I have played around with Homeschool Planet is friendly. You do not need to spend a week just trying to figure out how to use it. It is very user friendly! Homeschool Planet is pretty. There are a good amount of options available for customization that make the planner easy to use and attractive too look at; after all, you're going to be spending a lot of time looking at it! The Calender and Planner views are easier to work with and give you a better allotment of free space on your screen without dead space than some other planners.
I know there are features with lesson planning and class notes that I have not explored to their fullest extent, but I fully believe that this program can do everything I need and nearly all of what I want. Truly, my only caveat is the gradebook, but I'm picky as I mentioned previously.
Click here for more information about the Homeschool Buyers Co-op.
 Free 3 month trial!
Right now there is a limited opportunity to get a free 3 month trial through Homeschool Giveaways.
This offer ends on Friday, the 17th at 11:59 PM ET.
Connect with Homeschool Buyers Co-op through Social Media:


Related Posts