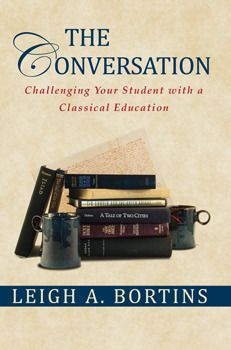 The Conversation: Challenging Your Student with a Classical Education

by Leigh A. Bortins


ISBN:
9780990472025
Genres:
Educational Resources
Published by
Classical Conversations MultiMedia
on June 2015
Pages:
267
Format:
Paperback
Buy from Publisher
Find on Goodreads
Why do so many families stop homeschooling when their children reach high school? Why, when young adults are mature enough to apply their knowledge and communicate wisely, do we emphasize silence, lectures, and multiple-choice tests?In The Conversation, her third book on classical, home-centered education, Leigh Bortins looks back on thirty years of homeschooling as she makes a compelling case for parents to stay the course through high school and experience the rich conversations that emerge during the rhetoric stage of learning.Conversations strengthen and unify the family.Conversations provide accountability for the good habits thatmake learning possible.Conversations enliven the academic content that guidesstudents to become virtuous adults.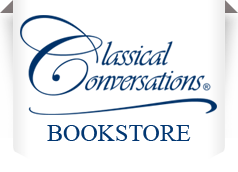 If you've been reading Creative Madness Mama this week you might have noticed that I recently read and short reviewed
The Core.
I decided to go back and read
The Core
after my experience and delight with
The Conversation.
We are, for the most part, a Classical Christian Educating family. A couple of years ago when a conference came to Memphis I was able to discover
Classical Conversations
  ~ 
(http://www.ClassicalConversations.com)
where I was introduced to their methodology for those studying at home. At that time my daughter was just starting Junior Kindergarten so I wasn't quite ready to absorb all of the information. Yet since we have enjoyed their Classical Acts & Facts History and Science Cards and plan to get more as the appropriate topics arise. In the years since I have read every book I can get my hands on, on the Classical Christian Education methodology. Thus, when an opportunity came up to review the latest in Leigh A. Bortins' trilogy series discussing the Classical Conversations theory of education in a how-to format I jumped at the chance. While it will be quite a few years before we enter into the high school stage, it is still on my mind and different thoughts and plots will get us there so for myself I'm delighted to go ahead and read
The Conversation
and get an idea of what might be to come for us.
Students who have been educated at home and in community don't think of young children as bothersome or older adults as irrelevant; instead, they treat them as extensions of their families are are therefore comfortable entering into relationships with people of all ages.
The Conversation, p. 4 by Leigh A. Bortins
Coming into this review, I'm not going to hash out all the elements of what-is Classical Christian Education, but I'll assume you might already know a bit about it. Yet if you don't, the earliest chapters give a brief thought into it as refer back to her other books such as The Core for the grammar stage, The Question for the logic stage, and lastly The Conversation: Challenging Your Student with a Classical Education for the rhetoric stage of learning. Mrs. Bortins shares through this book, The Question, what a rhetoric homeschool education looks like for her children and what elements you can use with teaching your own students. I found myself highlighting, underlining and taking notes. There was lots of nodding, grinning, and excitement building thinking about the possibilities as I read this novel. I also found myself thinking back to my own high school years as two of those (in public school) found me on campus for a mere two hours with the rest in independent study and work-study — how much could I have achieved if I had known about such possibilities then…
We all fail at parenting, but as Christians we know the power of forgiveness–God's mercies are new every morning. I will fail daily, but I will not give up.
The Conversation, p. 12 by Leigh A. Bortins
Often it is reiterated out that Classical Christian Education in the homeschool today is found as being the way you wish you were taught. With some guidance from Mrs. Bortins a parent-educator can get a grasp and a glimpse of what is possible for their children in this method. Whether your student is solely a scholar, an athlete, artist, or another there is a faint roadmap here to jump upon. I received a physical paperback copy of the book. Within the book there are three sections in parts. Part One is on high school at home, Part Two is on the rhetorical arts (or subjects taught and learned), and Part Three is a decent appendixes.
Look for a blend of activities that match your children's passions, your family's limitations, and your academic goals.
The Conversation, p. 12 by Leigh A. Bortins
My experience with the Classical Christian Education theory started when I was teaching as a long-term substitute at a cottage school, which was basically a bunch of homeschoolers under one roof. Yet as I researched, started having my own children and began our journey I knew more and more this was the direction in which the Lord was guiding us. Having a general idea of where to go and goals to have is important, but having resources such as The Question which provides advice and an all around pep-talk that you as a parent-educator can do this is wonderful. The Question is uplifting and definitely the best in her series and I highly recommend reading it.
… structure a lifetime of learning, which means some days and some months and some seasons look like school at home, some look like goofing off, and some look like suffering. Life is a big bag of living.
The Conversation, p. 21 by Leigh A. Bortins
And a note to leave you on…
As classical educators and parents, we sometimes forget that we really only need four things in order to educate someone. We need pencil, paper, good books, and time for great conversation.
The Conversation, p. 53 by Leigh A. Bortins
Mrs. Bortin's book may not be a huge catalog of reference and book lists, but it is parenting advice. Sage educating advice and inspiration on an adventure that can be started and can be done to the blessing and well-being of your student and their passions. It is possible to pursue an education like the masters of our history and The Conversation can give you a foot hold in the door to doing so.
Connect with Classical Conversations on Social Media:
Facebook: https://www.facebook.com/classicalconversations
Twitter: https://twitter.com/classicalconv
Pinterest: https://www.pinterest.com/classicalconv/
Google+: https://plus.google.com/117616164250444350670/posts
Instagram: *not currently in use*
YouTube: https://www.youtube.com/user/ClassicalConv


Related Posts