Source:
Homeschool Review Crew
Progeny Press
~
(
http://www.ProgenyPress.com) is one of the golden names for study guides.
I was blessed with the opportunity to get a digital copy of the Miss Rumphius study guide which I had the Enginerd print for us. I have had experience with other guides in the past, but I have been eager this year to discover what the guides from Progeny Press have to offer. The download version appears to be exactly what one would find on a CD. Permissions include the ability to reproduce pages for use in the classroom or home for one teacher. 
Within the pages of the guides, there is a note to the instructor, synopsis, mini biography of the book's author and illustrator. S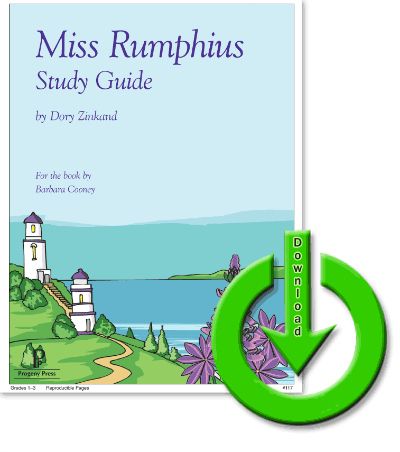 omething new to me was a section to study before-you-read the book. This was interesting and truly added a neat element to it as well as a good state of mind for focusing on Bible passages.
Through-out the guide I have found answer lines to respond to questions, a page of discussion questions, activities recommended, matching vocabulary exercises, fill-in-the-blank and more. There are a few illustrations through-out. My specific guide for the book Miss Rumphius was written for the lower elementary grouping. There are also upper elementary, middle, and high school options available. Progeny Press has quite an assortment of titles covered. I already had the book Miss Rumphius from one of my book lists, but looking at the recommended sections from Progeny Press guides I believe that all of the choices are sound and I wouldn't be disappointed to study them with my children.
In my experience, I have often thought of study guides and literature comprehension guides for full-length novels but had not really considered for picture books such a thing. However, for my young reader they are just the thing, and perhaps even provide a further element in discussing the imagery within the picture book paintings rather than just the sole text. The cover image chosen for the guide cover is quite lovely and does reflect the theme of the story chosen.
What I have found going through the guide (we're making a good pace, but not finished yet at this point) is that the discussion points are great for my elementary age student. I wouldn't hesitate at this point to get a new guide from Progeny Press in the future. It does become a little slow-going with the long blank answer questions however as she is not quite at the level to compose the answers and write them out herself, so there is a bit of narration and dictation to me as she responds and I scribe.
We have discussed geography, ecology, botany, art, scripture, and much more as we've been preparing to read, reading, and after reading and even rereading Miss Rumphius. I am such a fan of book lists and thus one of my favorite portions is the related resources section. We do not have all the titles listed, however, we have a few and it was so exciting for my AppleBlossom when I pulled out other picture books also illustrated by Barbara Cooney. I have also now added more to my wish list as well as we have so enjoyed discovering Miss Rumphius. While it is true to that lower elementary should be a rather easy task for completion for mama-teacher it is very exciting as a busy tired mama to find an Answer Key in the back of our guide. 🙂 Going through this guide with a child has been quite interesting. One can read a book with a glance and be done with it. However, going through and dissecting the story with a backing in scripture is enlightening and just might teach my children to take things further in their everyday reading adventures. Being able to learn a bit more about gardening and nature in this story has been delightful.
You might also be interested in:
 
Connect with Progeny Press on Social Media:
Facebook: http://facebook.com/ProgenyPress
Youtube: http://youtube.com/progenypress
Twitter: http://twitter.com/progenypress


Related Posts