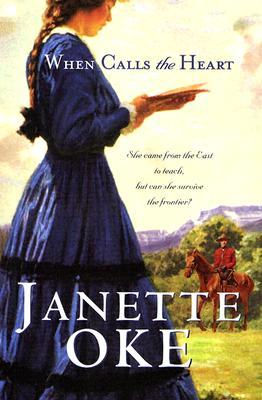 When Calls the Heart, Romance

by Janette Oke
Series: Canadian West #1


ISBN:
0764200119
Genres:
Christian Historical Fiction
Published by
Bethany House
on February 1st 2005
Pages:
220
Format:
Paperback
Source:
Purchased at local bookstore
Find on Goodreads
Nothing in her cultured East Coast upbringing prepared Elizabeth for a teaching position on the Canadian frontier. Yet, despite the constant hardships, she loves the children in her care. Determined to do the best job she can and fighting to survive the harsh land, Elizabeth is surprised to find her heart softening towards a certain member of the Royal Canadian Mounted Police. Book 1 of the bestselling Canadian West series.
This is my first experience with Janette Oke, which had a lot riding on it because of the recommendations from my sister-in-law as well as the making of the movies, etc. I was pleased. It was a quick and enjoyable read. At first I did not like how it was written as a Dear so-and-so letter perspective, but I think that it works well, as if it is Elizabeth telling you the story, as to children or a friend. Love, patience, and waiting for God's will not your own are very valuable lessons learned here, as well as to get out of your comfort zone to see what he has in store for you. I look forward to the rest of the series and then others.

Related Posts