This post contains affiliate links you can use to purchase the book. If you buy the book using that link, I will receive a small commission from the sale. Any blessings we receive go to helping our homeschool and grocery budgets!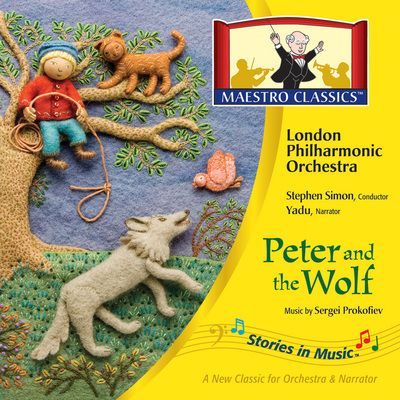 Peter and the Wolf

by Sergei Prokofiev
Series: Stories in Music


Illustrator:
Salley Mavor
Narrator:
Yadu
Also in this series:
Mike Mulligan & His Steam Shovel
,
Casey at the Bat
ISBN:
9781932684124
Genres:
Educational Resources
Published by
Maestro Classics
on 2012
Format:
Audio CD
Length:
68:17
Buy from Publisher
Peter and the Wolf, said to be the greatest children's story ever set to music, is brought to life in this award-winning production from Maestro Classics. The CD/MP3 features 8 tracks with tons of educational extras, an educational performance of Peter and the Wolf on "traditional" Russian instruments, an instrumental version of the story and a 24-page activity booklet. Performed by The London Philharmonic Orchestra with Grammy-nominated conductor Stephen Simon and narrator Yadu.

Track Listings
1. Introduction (Yadu)
2. Peter And The Wolf (London Philharmonic Orchestra, Stephen Simon, Yadu)
3. About The Composer - Prokofiev (Bonnie Ward Simon)
4. A Russian Peter (Trio Vornoezh)
5. About The Music (Stephen Simon)
6. Peter And The Wolf (London Philharmonic Orchestra, Stephen Simon)
7. Invitation To Grandfather's Party (Bonnie Ward Simon, Maestro Classics Band)
8. Kalinka (Trio Voronezh)
In the summer of 2014 I discovered Maestro Classics ~ (http://www.MaestroClassicsDirect.com) and I have found myself to be enthusiastic about their CDs ever since. Most recently, I have been blessed to get my educational teaching hands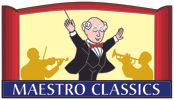 on Peter and the Wolf as a physical CD with a study guide inside and access to a downloadable curriculum guide. The running Total Playing Time 68:16. Spending time with my children listening to Maestro Classics' Peter and the Wolf has been educational and fun. We've recently taken up violin lessons again which are an hour drive away and now we're preparing our mind for violin by listening to our various options of titles from the Stories in Music collection.
Casey at the Bat, Mike Mulligan and More, and the Merry Pranks of Master Till as well as Peter and the Wolf now have given us hours to delve into the classical world learning more about the composers, their culture, and the instruments used to create songs. Peter and the Wolf is and award winning musical narration and the title that was recommended to me at a homeschool expo so many years ago and many times since as a perfect jumping point for homeschoolers to delve into music. However, this is for every family and not just for homeschoolers I promise you!
Of course the story and music are by Sergei Prokofiev, while Stephen Simon is the Conductor, and Yadu the Narrator with the presentation recorded by the London Philharmonic Orchestra. Each animal in the story is represented by an instrument and working through this with your students really encourages listening skills.
Peter and the Wolf is available as iTunes, MP3 download, and audio CD. I love the physical CD version with the tri-folding case and 24-page activity booklet. Each different story to music that I have seen is different with unique activities to be completed. The Peter and the Wolf booklet has word search, crossword puzzle, instrument to animal matching, and much more including narrator and composer biographies. While the CD booklet is enough to truly entertain and educate for more than one sitting, there is also a downloadable homeschool guide available from the Maestro Classics website as well. Oh and you can listen to samples of the tracks online as well! The FREE Peter and the Wolf curriculum guide with music lessons, art projects and unit studies in all subjects are bound to give you a great amount of educational value.
This CD has 8 tracks with more than an hour of educational entertainment. We recently took a road trip that was a three-hour one-way trip and both there and back we listened to Peter and the Wolf more than once. My four-year-old, the dedicated Princess asked what type of music this was because she thought it was fabulous and exactly what princesses should be listening to. 🙂
Maestro Classics has a mission to present and grow a love of music through educational and happy performances and their Peter and the Wolf is a perfect example of how and what this is meant to do. In the next year with our other school topics, we plan to spend a lot of time in fairy tales, classic fairy tales and discussing why they were so important for parents to share with their children. I think that the story of a mischievous disobedient boy Peter and his encounter with a wolf as he climbs the garden wall is a grand place to begin. Each instrument represents a character in the story:
* Violin – Peter
* French Horn – Wolf
* Flute – Bird
* Clarinet – Cat
* Bassoon – Duck
* Oboe –  Grandfather
* Timpani/Kettle Drums – Hunters
Adding Classical Music to your School
Strauss tells a story in music
*If you do decide to purchase, use my affiliate link and a small percentage of your purchase will bless our family with no price change to you.
Connect with Maestro Classics on Social Media:
Facebook: https://www.facebook.com/MaestroClassics
Twitter: https://twitter.com/MaestroClassics
Pinterest: https://www.pinterest.com/maestroclassics/
YouTube: https://www.youtube.com/user/maestroclassics


Related Posts