Eat Your Math Homework

by Ann McCallum
Series: Eat Your Homework


Illustrator:
Leeza Hernandez
Find the Author:
Website
,
Blog
,
Twitter
,
Facebook
,
Goodreads
,
Amazon
ISBN:
1570917809
Genres:
Educational Resources
,
Juvenile Literature
,
Mathematics
Published by
Charlesbridge
on July 1st 2011
Pages:
48
Format:
Paperback
Find on Goodreads
This collection of yummy recipes and fun math facts is sure to tempt taste buds and make you hungry for more. Explore patterns in nature while you chomp on Fibonacci Stack Sticks. Amaze your friends with delicious Variable Pizza Pi! Wash down your geometry assignment with some Milk and Tangram Cookies.
Topics covered include probability, Fibonacci numbers, tessellations, variability, and more.
We are still in the earliest years of math education in our homeschool and I want to make sure that math remains a favored subject and not a dreaded one. Thus when I heard about Ann McCallum's Eat Your Math Homework I was intrigued and excited about the possibility of adding such a book to our homeschool set up. We are enjoying living books with a math theme and I think an activity book for math will definitely excite my little people. Especially a recipe book will make my six-year-old second grader excited as she is just starting to really be able to help out in the kitchen. For the purposes of this review I received an autographed paperback copy of the book. It is my understanding that Ann McCallum Books ~ (http://AnnMcCallumBooks.com/) doesn't just stop with math, but also has Eat Your _____ Homework books for History and Science as well as Math. You can find out more at www.eatyourhomeworkbooks.com. "Do your brain a flavor." *snicker* 😉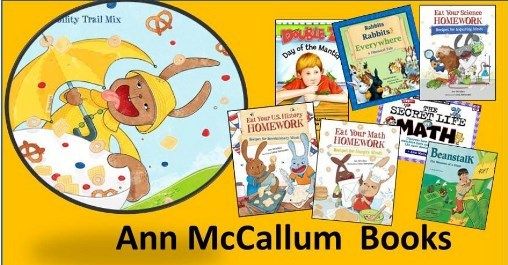 While I've gotten my hands on a paperback or softcover version, it is my understanding that there is also available a library bound edition as well as an eBook available. The Eat Your Homework books are published by Charlesbridge which in the past has provided us with other math living books that we have quite enjoyed so it is no surprise to be quite pleased with this book as well.
47-pages including a glossary, index, and math review find this page filled with recipe after recipe that are written to induce excitement and curiosity about math. There is also an introduction and kitchen tips section as well. This is a good primer that might spark more ideas to get the creative math juices flowing in the kitchen. There are six full recipes included, each spanning a few pages.
The Eat Your Math Homework book is written toward a young student audience and while they are recipes of a sort, you can also enjoy them by reading them aloud as well. While of course the activity makes it the most fun, some of which we were glad to just read and discuss the possibility of making the recipe. Throughout the book I love how vocabulary words are bolded which highlights them to the student and then we can use the glossary and discuss them further. There is so much learning or review to be done here!
The illustrations are not my personal favorite, but my kids love them and find them to be whimsical and fun. They do invoke excitement and curiosity which is what I think a book like this is absolutely meant to do. Almost all of the ingredients for these recipes are things that we already have on hand or were able to find easily at the standard grocery store and I really appreciate that. As often these days we seem to find experiement books, but lack for the materials. With this book that is not an issue!
My students are tot, junior kindergarten, and second grade and we loved this book. Looking at the math skills that are taught and reinforced I find this book to be a good introduction for them, but it could be good review for others. There are math teasers through out (answers included in the back) and the skills that are gone over include Fibonacci sequence, fractions, tessellations, tangrams, variables and pi, and probability.
With our experience in the past with Charlesbridge, and now this experience with Eat Your Math Homework, I wouldn't hesitate to add Ann McCallum's other Eat Your Homework books to our shelves! Oh and make sure to download the Teacher's Guide from Charlesbridge for even more fun! The TG includes worksheets to go along with the recipes. 😉
You might also be interested in:


Related Posts