Zonderkidz ~ (http://www.zondervan.com/children) is not a new name for you to experience at Creative Madness Mama. Today, I get to tell you about one of their newest kiddo Bibles, the Faith Builders Bible. This is a hardcover, jacketless Bible, perfect for your brick building, no matter the brand of brick minded child! When this Bible arrived I was unsure who was the most excited. While we are still working with Duplo Legos in our family and haven't really moved up to the standard size building bricks – I was concerned at first that I might have to go buy some to be able to get the most out of an experience with the pages and inspiration from this Faith Builders Bible, but I was so pleased to find there was plenty of inspiration to be had, even with the toddler-sized building blogs.  We have a plethora of children and youth Bibles, but lately on many occasions by request, we've been enjoying the Faith Builders Bible from Zonderkidz as part of our kiddo devotions.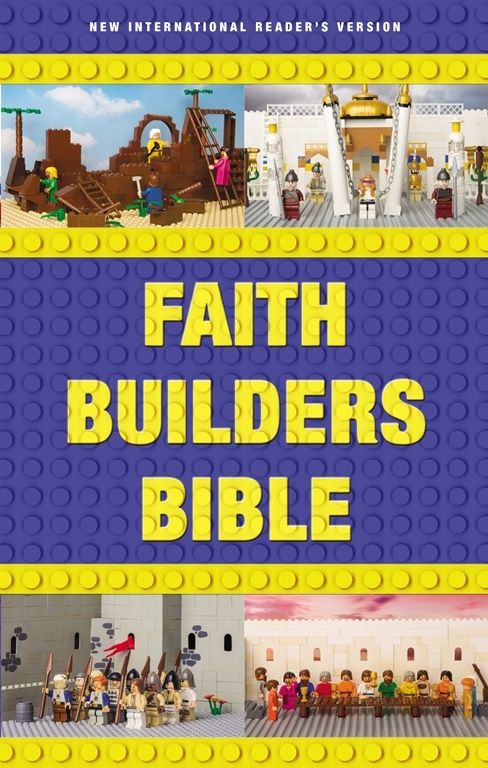 NIrV, Faith Builders Bible, Hardcover

by Zondervan Bibles


Also by this author:
NIV Compact Thinline Bible, Busy Dad's Edition
ISBN:
0310754631
Genres:
Bibles
Published by
Zonderkidz
on October 27th 2015
Pages:
1144
Format:
Hardcover
Buy from Publisher
Find on Goodreads
Using the passion of kids that spend hours on end with brick-building toys, the Faith Builders Bible in the scripture words of the translation of New International Revised Version brings the stories of the Bible off the page and into their hands-on imaginative play.

Including 24 full-color illustrations in addition to a black-letter 66 books of the Bible.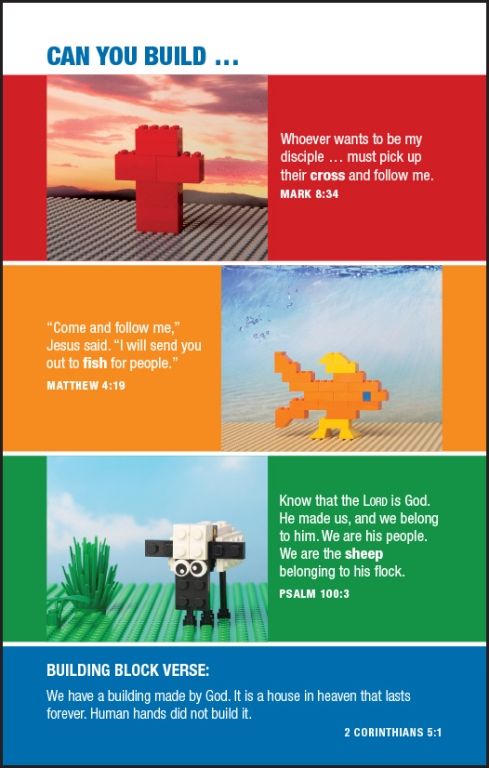 After the Faith Builders Bible arrived, I glanced at it and then left the kids to run free and flip through. The 
Faith Builders Bible 
a hardcover, jacketless, Bible is the New Internationals Reader's Version (NIrV) from Zondervan. It is not officially associated with any specific brick building blocks brand and thus anything will do for the hands-on that is sure to follow from perusing these pages. At first, I was thinking that I would have to read them a story within scripture, and then encourage them to bring it to life. I was thinking I would be on the floor and guiding along the way. Which to be honest is not quite my cup of tea. However, these girls ran wild with it and were immersed immediately. AppleBlossom is a great reader, so she read aloud while the Princess gathered appropriate blocks and they went to town.
The Princess was drawn toward building a red cross and she did using the bigger blocks built one cross and then another and another and we discussed Jesus on the cross. AppleBlossom was intrigued by the two-page spread which separated the books of the Bible by genre and names on each rectangular brick. We do not have enough to label them all. However, we went through and did the Torah/Law books as well as some others, and then she practiced putting them together in order and reciting the names of the books in the Old Testament as fast as she could. It's fun and exciting and has given her a tangible way to practice and get silly and excited in her efforts to remember them all!
The scripture itself in the Faith Builders Bible is a black-letter (not red-letter words of Christ) with a decent size 10 or 11 size font I'd guess with full-color insert pages throughout with prompts for further study, discussion, or hands-on play to continue what is being taught in the scripture. There is even a page with the ABCs of Salvation to walk someone through accepting the truth.
I feel strongly that one of the ways to get a young person into the desire of spending time in God's word is through their interests. While with the Princess, she is most often seen reading a princess themes, or Brave Girls, or Angel themed Bible storybook and AppleBlossom is often seen with her comic book Bible, now she is spending time reading and learning about different things to build and learn in her brick Faith Builders Bible. With the popularity of major brick building hobbies and collections these days, the Faith Builders Bible is an absolutely delightful tool to let kids read the full scripture of the Bible and challenge themselves to learn more and remember stories within the text.


Connect with Zonderkidz on Social Media:
Hashtags: #HSReview #FaithBuilding #Bible #NIrV


Related Posts