I think that it is an easy statement to say that one of my favorite product reviews that I have been introduced to through the blessing of participating in the TOS Crew is from Logic of English ~ (https://www.logicofenglish.com/) and today that blessings has continued in the form of the latest level of their primary school program in Foundations Level D. Link back to Foundations A and you can read my extremely verbose post on our original thoughts about LOE Foundations.
We still love "Dragon Phonics"!
When we started using LOE Foundations, I got the full kit including the supplemental Doodling Dragons book and iOS phonogram app. You can read more about those in my previous post. For the purposes of this review, I was blessed to receive what is knowing as the Continuing package which included the Level D Teacher's Guide, Student Workbook, Flash Cards, and more.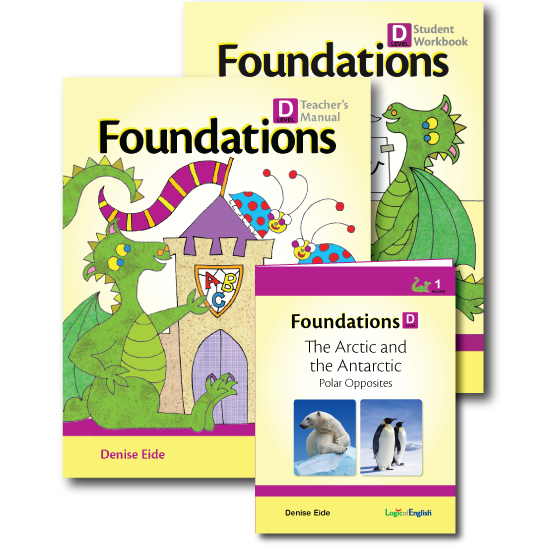 Foundations D Teacher's Manual

by Denise Eide


Illustrator:
Ingrid Hess
Also by this author:
Foundations A Teacher's Manual (Foundations by Logic of English)
,
Doodling Dragons: An ABC Book of Sounds
,
Essentials Teacher's Guide, Vol. 1
ISBN:
9781936706389
Genres:
Educational Resources
,
Language Arts
,
English Language
,
Grammar
,
Phonics
,
Spelling
Published by
Pedia Learning Inc.
on 2014
Pages:
305
Format:
Hardcover
Buy from Publisher
Preparation notes, content notes, sample scripts, teaching tips, challenge activities and review...
Foundations Teacher's Manuals have all the information you need to begin teaching the Logic of English immediately!
The Teacher's Manual guides you through each lesson, from prep to each step of the instruction and the exercises, games, and optional activities.
Each lesson is designed to take about 30 minutes and includes instruction and activities in two or more of the following areas: Phonemic Awareness, Phonograms, Handwriting, Spelling, Spelling Rules, Words, Vocabulary, Reading, Fluency, Comprehension.
The Logic of English Foundations program is geared toward an audience of children ages 4-7 and can be used easily in any schooling setting. We are using it very successfully in homeschool and I have read many articles and seen videos of schools using it well in a classroom setting as well. While the Level A-B program was for the beginning reader opening the doors of reading through basic phonogram knowledge, it is in the Level C-D program where the meat really starts happening in the program.
But don't skip any levels!
They are all worth it!! You can go as slow or as fast as your student needs. When we started with Level A, my AppleBlossom at the time was above it, but she loved every minute of it and zoomed through it. Now that we are using Level A again with the Princess, AppleBlossom still wants to participate. After reviewing Level A, we continued in the program purchasing Levels B and C, and now we have been blessed with Level D for review. The Foundations program is divided into levels by letter rather than a number or grade. Level A is blue, Level B is green, Level C is orange, and Level D is purple (the first three colors in the scheme actually repeat in order in the new full-color Logic of English Essentials 2nd edition!).
There have been a few updates, including the production of readers outside of the workbooks for Levels C & D. With our Level D continuing package we received Foundations D Teacher's Manual, consumable Foundations D Student Workbook,  Foundations D nonfiction Readers, Basic Phonogram Cards, two sets of Phonogram Game Cards, Phonogram Game Tiles, NEW 3rd edition two-sided Spelling Analysis Card, laminated tri-fold Phonogram and Spelling Rule Quick Reference, Spelling Rule Flash Cards, Advanced Phonogram Flash Cards, and Grammar Flash Cards. I purchased separately all the individual children's books used in this level (several of which are available as eBooks from major retailers I noticed, but we opted for all physical copies for this level of reading).
Tell me about the individual components!
As always, the teacher's manual is a high quality full-color hardcover book. These books are all very sturdy and are going to last me well into teaching this course child after child. I am very pleased and love holding these books in hand. The price tag is worth it with these manuals. The consumable student workbook is again in full-color with perforated pages, but we like to keep it all together in the book mostly. We do pull out the pages meant for cutting up into game cards and the like, and I laminate these for use again and again. With the next child, we will leave them in the book. There is an option to buy a digital copy of the workbook, but I feel the printing costs would be prohibitive and child after child I am glad to purchase a physical workbook copy. Each student workbook is now at a new price of $19. We started in the early levels with the cursive workbooks. While the Level D workbooks are not specifically cursive, we are able to continue to carry these skills over. However, if you wanted your child to do manuscript they can do that as well. Most of the print in the workbook is in a bookface font. The Level D student workbook is just under 300 pages at 286 total pages. My students love the interactivity of cutting and writing exercises in the workbook. I find that the line size and spacing is perfectly appropriate to this level of their handwriting as well. New to me this time around are the Non-Fiction Readers. These are little readers, much like what we found in the back of the lower level workbooks, but these are printed on high quality paper and already staple bound for you. (I'm going to go back to order myself some of the Level C readers that are now available in this same way as well!) The Foundations D Readers are available at a new price of $15.
The flash cards! ! !
Familiar to you if you're coming from the first edition of Essentials or Foundations are some reusable resources such as the Basic Phonogram Flash Cards which contain the 74 basic phonograms needed to read most English words – the A to Z phonograms plus 48 multi-letter phonograms in a black text on white card format. In my experience, I'm pretty quick to run to laminate cards that I want to last (like our Art Cards!), however I feel like these are a pretty durable quality cardstock and I'm not too concerned with them being bent (however I'm not handing them off to my toddler either). These flash cards are 4.5×6″ and have a black tab across the top for easily being differentiated from the Rhythm of Handwriting Tactile Cards we used in Levels A-B. On the front side of the card you'll find the phonogram and on the reverse is each phonogram sound and sample words using the sounds. The Advanced Phonogram Flash Cards contain 46 advanced phonograms and have a blue strip. The Spelling Rule Flash Cards have a green strip and in 41 cards cover 98% of English words including 9 silent final E rules, 3 schwa rules and more.
My new favorites include the Grammar Flash Cards with a purple strip and 83 grammar rules from punctuation, capitalization, contractions, and all the parts of speech as well as codes for writing out numbers. All of these flash cards are appropriately 4.5×6" and store very well in a Super Stacker storage tote. You heard me say all of the cards… well there is more! Another two sets of cards we received are Phonogram Game Cards. The game cards are available in three sets (differentiated by color, thank you!) in red for manuscript, blue for book font, and again green for cursive. We received a set of cursive and standard bookface with our set of reusable resources. These cards are much smaller at 2.25×3.5″ yet again on a durable cardstock that I'm not overly worried about (thank you for making my life easier!). Each deck has the 74 phonograms and wild cards in a set. Bear with me, there are three more new items to discuss! The 3rd edition of the Spelling Analysis Card, which is two-sided breaking down the bits to analyze the spelling of any word. One side directed toward teachers and the opposite to students. With all the questions to ask leading to a routine and mastery of spelling rules. The heavy-duty, durable Phonogram and Spelling Rule Quick Reference sheet is another awesome tool for teachers and students. Right now, I am the one loving it the most. This includes a 8.5×11" six fold-out pages filled with information from rules to phonograms and more. Lastly, is my daughter's favorite new tool, the Phonogram Game Tiles. These heavy cardstock cards are filled with the 74 basic phonograms color coded with consonants blue, vowels in red, and R-controlled vowels in violet, while the silent final Es are green. These can be used in a plethora of manners and my daughter loves to bring them out in our lessons (and sometimes just to play school!).
We really do still love our Dragon Phonics!
In LOE Foundations Level D, we are covering Language Arts with no gaps! Any standard lesson covers reading, grammar, vocabulary, spelling, comprehension, and writing. This is hands-on, interactive, and so much fun. It has worked phenomenally well with my accelerated young learner and it is now working again well with my attention-span of a butterfly spirited child.
Level A took us from basic phonogram awareness to short-vowel words. Level B too us through short sentences, long vowels, schwa sounds, and multi-letter phonograms. Level C was an adventure into paragraphs, new spelling rules and phonograms, as well as multi-syllable words. Now, with Level D we are really getting basic phonogram mastery and reading REAL books. Some of the best selections from early and beginning readers have been selected including some from various series giving you a taste of where to find more inspiration for your young readers.
In the Teacher's Manual, each lesson teacher preparation is so simple and clearly laid out. I love these books, especially for their pop out boxes that suggest additional optional activities to take this material across the curriculum. There are even more book list suggestions through out the lessons! I have found that Level D is heavily inspired by science and nature. This book picks up right where Level C left off in Lesson #121. (There are 160 lessons in the Foundations program.)
Following every fifth lesson there is a review and assessment lesson. This program has a perfect amount of hand-holding and the scripted lessons really make teaching these subjects so easily done and I love that they are all intertwined. No more here, there, and yonder on these subjects for our earliest primary years in the Creative Madness Mama Blossom School!
Connect with Logic of English on Social Media:
Facebook: https://www.facebook.com/TheLogicOfEnglish/
Twitter: @LogicOfEnglish
YouTube: https://www.youtube.com/user/LogicofEnglish
Pinterest: https://www.pinterest.com/logicofenglish/
Suggested Hashtags: #hsreviews #phonics #spelling #strugglingreaders
Read my other Logic of English reviews including Foundations, Level A Cursive and Essentials 2nd Edition, Volume 1
[link forthcoming]

!


Related Posts