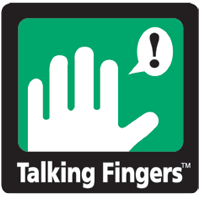 Talking Fingers Inc.  ~  (http://www.talkingfingers.com/) has created hours of fun for both of my daughters as they are learning to Read, Write & Type. Through the blessings of the TOS Review Crew we have been given a one-year subscription to Read, Write & Type, which is good for multiple users. I am using this program with my six-year-old second grade advanced reader daughter and my four-year-old preschool daughter who is still working on her basic phonics (summer birthdays).
We are an English speaking household (with a little French and German thrown in), but I easily see where this program would be very beneficially to an ESL classroom or family. Our family is using this as review of reading, and practice of writing, spelling, and a primer on typing for my AppleBlossom and an introduction to early reading and spelling practice for my Princess.
How do we use this program?
Talking Fingers: Read, Write & Type is an online program or application. The first thing I did was go into our Google Chrome moderated browser for the girls and add the domain to their allowed list. Now, both girls can access it when logged into their desktop on the Linux Ubuntu laptop in a child-moderated Google Chrome browser. I did not test this on any of our other devices/machines, as I wanted them to use a full keyboard. (It did not work on the iPad, I believe due to Flash related reasons.)
Each girl has their own login and password to their Read, Write & Type account. Once logged in, they can press start and the imaginative fun begins.
After pressing start, a theme song happens and then the keyboard page loads. I'll use basic screenshot images as the program has your child's full name typed on the page.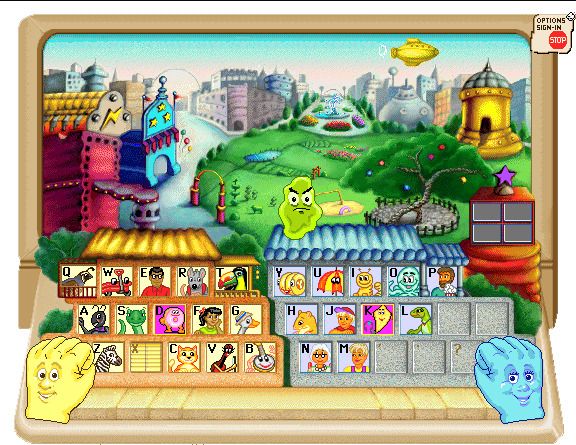 Once your keyboard screen loads, the student clicks on Vex-or (green wriggling virus) to get started on the next activity. To log out, you click on the computer logo at the top right corner (not shown in above image). After logging out, a separate student may use their login credentials to begin. There is also a parent/teacher login where you can add and edit student information such as passwords and which programs they are enrolled in with an application key.
The Program:
Read, Write & Type is a brain child of more than 15 years of research and development. It is designed and produced by neuropsychologist Jeannine Herron, Ph.D., and software developer, Leslie Grimm, Ph.D. It is a program that is highly recommended for children learning English either as a second language or as a first. This program can meet the goals across the board. And it does so, with my accelerated learner, and my spirited child.
I actually got a kick out of reading the background of Leslie Grimm as she is the creator of Reader Rabbit which was the program of my youth that I learned much of my typing and interacting with as a child in a school computer lab. It is delightful to me, remembering my experiences, to know that such a designer is still making headway into promoting great education for kids on the computer with basic skills such as reading, spelling, typing, and essentially writing.
In addition to the online program, we were also given a PDF Activity Book, which has a lot more biographical details than what I touched on here as well as page after page of inspiration and resources for taking the skills learned on the computer off on to real paper and for continued interactive education with your child.
I sat in on the first few lessons with my girls and then I let them have at it. I really enjoy being able to reference the Scope and Sequence to make a note of where they are in their journey through this program.
Connect with Talking Fingers on Social Media:
Facebook:  https://www.facebook.com/TalkingFingers/
YouTube:   https://www.youtube.com/user/talkingfingersvideo
Twitter:  https://twitter.com/ReadWriteType/ @readwritetype
Hashtags: #hsreviews #reading #typing #esl #k-2learning


Related Posts