I received this product free from Author for the purpose of reviewing it. I received no other compensation for this review. The opinions expressed in this review are my personal, honest opinions. Your experience may vary. Please read my full disclosure policy for more details.
This post contains affiliate links you can use to purchase the book. If you buy the book using that link, I will receive a small commission from the sale. Any blessings we receive go to helping our homeschool and grocery budgets!
Born of Persuasion

by Jessica Dotta
Series: Price of Privilege #1


ISBN:
1414375557
Genres:
Christian Historical Fiction
Published by
Tyndale House
on September 1st 2013
Pages:
435
Format:
eARC
Source:
Author
Buy on Amazon
Find on Goodreads
The year is 1838, and seventeen-year-old Julia Elliston's position has never been more fragile. Orphaned and unmarried in a time when women are legal property of their fathers, husbands, and guardians, she finds herself at the mercy of an anonymous guardian who plans to establish her as a servant in far-off Scotland.
With two months to devise a better plan, Julia's first choice to marry her childhood sweetheart is denied. But when a titled dowager offers to introduce Julia into society, a realm of possibilities opens. However, treachery and deception are as much a part of Victorian society as titles and decorum, and Julia quickly discovers her present is deeply entangled with her mother's mysterious past. Before she knows what's happening, Julia finds herself a pawn in a deadly game between two of the country's most powerful men. With no laws to protect her, she must unravel the secrets on her own. But sometimes truth is elusive and knowledge is deadly.
It is hard to believe that it was actually a few years ago when I first read Born of Persuasion, the first in the Price of Privilege Trilogy by Jessica Dotta. I craved every page turn and enjoyed the entire novel from beginning to end. While it happened into my reading scheduled during a tough season in my life, I adored the novel.
Being transported back to 1838 I was able to spend a few days captivated into a story filled with mystery of the past and secrets. This is completely an Austin meets Bronte novel that would appeal to many readers and I wouldn't hesitate to recommend it and dive into the rest of the series.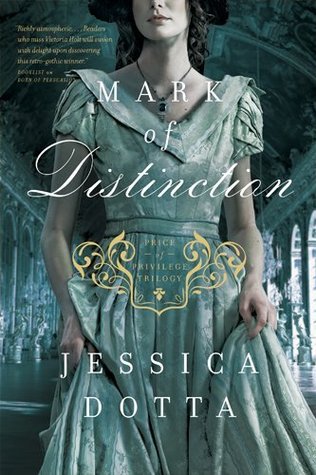 Mark of Distinction

by Jessica Dotta
Series: Price of Privilege #2


ISBN:
1414375565
Genres:
Christian Historical Fiction
Published by
Tyndale House
on May 1st 2014
Pages:
437
Format:
eARC
Source:
Publisher
Buy on Amazon
Find on Goodreads
London is said to be the glittering jewel of society, a world unto itself—but to Julia Elliston it is a city of shadows. Her life is swiftly dissolving into scandal. And in Victorian society, even a whisper of scandal—substantiated or not—can be the death of a young woman's reputation.
When Julia discovers that Lord Roy Pierson, her guardian and one of most influential men in England, is the father she has never met, she begrudgingly accepts his protection. But Chance Macy's power is far-reaching as well.
Thrust into society as the Emerald Heiress, Julia is the toast of London, a celebrated curiosity. But in reality she's trapped between the clutches of two powerful men. Aided only by a gentleman whose intentions she prays she can trust, Julia must finally take control of her own fate—but outwitting one's foe rarely goes according to plan.
The next novel in the trilogy is the Mark of Distinction. I read part of this one and listened to the rest as an audiobook and it was again enchanting and entertaining with each new chapter. (I thought the narrator was well chosen, and I'm really picky when it comes to audiobooks!) Continuing the story and plot right where the first novel left off, more mysteries and secrets are revealed and more endearing characters are introduced to our dear heroine Julia's daily life.
This story is filled to the brim with entertaining London society culture. It is well written and the story flows so well that I hardly notice how much time passes as I'm enveloped in the story. While I would recommend reading this series in order, it would still be an enjoyable read if you had to start here. I can easily see wanting to recommend wanting to cuddle up in a cozy spot to just read the weekend away with this series.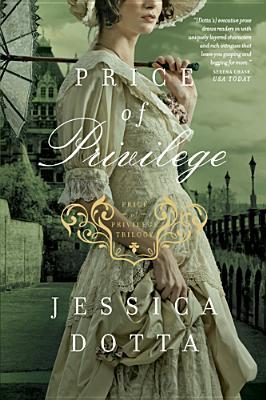 Price of Privilege

by Jessica Dotta


ISBN:
1414375573
Genres:
Christian Historical Fiction
Published by
Tyndale House
on January 1st 2015
Pages:
451
Format:
Paperback
Buy on Amazon
Find on Goodreads
Having finally discovered the truth of her birthright, Julia Elliston is determined to outwit Chance Macy at his own game. Holding a secret he'd kill to keep, however, is proving more difficult than she imagined.Just when Julia thinks she's managed to untangle herself from Macy's clutches, he changes tactics with a risky ploy. As the scandal of the century breaks loose, drawing rooms all over London whisper what so far newspapers have not dared to print: Macy's lost bride is none other than Lord Pierson's daughter--and one of the most controversial cases of marital law ever seen comes before Victorian courts.Though Julia knows Macy's version of events is another masterful manipulation, public opinion is swaying in his favor. Caught in a web of deceit and lies, armed only with a fledgling faith, Julia must face her fiercest trial yet.
If ever there were a series mourn where I mourn the loss of more pages to turn, I have found that to be so with the Price of Privilege trilogy from Jessica Dotta and I do hope that she has more stories to come. The third novel in the series, the Price of Privilege recovers answers to all the questions that I have built up following the mystery and adventure in Julia's story.
Overall the story is dark and dramatic, but it is a worthy read. The characters are entertaining and fill the spaces with so much personality and wit that as a reader I found myself overly eager to know what might happen next. Not a light read, but still a really good one.

Related Posts