Ever since the very beginning of my homeschooling journey, including the years before my first child was born I knew that I would be pursuing a teacher/book relationship with the Apologia Exploring Creation series from Apologia Educational Ministries  ~  (http://www.apologia.com/). As my oldest daughter got closer to the age where I felt she would really comprehend the texts I found myself excited and started collecting the entire series. Last year, we started studying Astronomy with the first edition book from Apologia. My daughter was working at her own pace through the junior notebooking journal and her little sister was always begging to color pages too. When the review slot for Apologia came around I jumped and begged and pleaded to be included in this review, and by the blessing of the crew and Apologia we were sent Exploring Creation with Astronomy, 2nd Edition in all it's glory!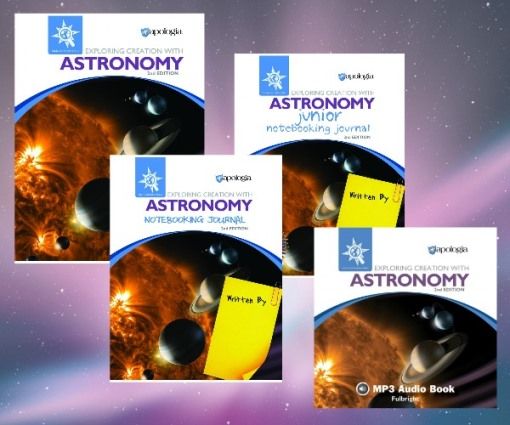 What is it?
For the purposes of this review, we were sent a physical set of the Exploring Creations with Astronomy set including a student text, text on audio MP3 CD and two consumable spiral-bound workbooks also known as notebooking journals on two separate skill levels.
The timing for this review has absolutely been divine. It is perfect for our children. My main student is a seven-year-old advanced third grader. She is using the standard Notebooking Journal and loves to read ahead and then listen to the CD all together with the rest of us. My second student is a five-year-old attention span of a butterfly Kindergartener and she begs to do astronomy every! single! day! and is working in the Junior Notebooking Journal. She cannot yet read beyond CVC words, but she enjoys listening to the Audio CD and looking at all the pictures throughout the Student Text.
In all honesty, we were enjoying our studies with the first edition of Apologia Astronomy. However, the second edition is just incredible! Truthfully, I can hardly find the words to describe it best. The images inserted throughout the text are no longer a combination of clipart and sketch. Now there are vibrant satellite imagery photographs as well as relevant sketches and illustrations in the entirety of the book. It is a visual marvel! I love looking at it and I am excited for the inspiration and influence that such a fascinating book will have on my children in an introduction to science. I just know such a resource is going to light a fire of knowledge seeking for my little learners!
The Notebooking Journal is meant for third, fourth, and older grades. The Junior Notebooking Journal is geared toward Kindergarten to about second or third graders with more basic writing skills. This year has proven to be the perfect opportunity to move up my older child to the standard journal. She is ready for the smaller lines as opposed to the basic primary lines with a dotted midline. The extra challenge in the games like crossword puzzles without a starting letter hint are right on her level. She would, however, still love to have coloring pages, but alas those are saved for the junior version. (Luckily for us, she still has a few left in the first edition to color. I'd like to note here that the coloring pages are the same in the first edition as the second edition.) I should mention that the student text is not the only book that got a complete makeover. The Notebooking Journals did as well! Now they are full color!! Vibrant and so appealing to my students!!
How are we using it?
In the beginning of each notebooking journal, there is a recommended daily schedule and checklist that outlines several assignments to complete per lesson. We usually split the one day into two to fit it into our workload as the girls want to work on it nearly daily, we are averaging about four work days per week, currently. At a pace of two daily sets of assignments each week, the entire program should last a school year. We are not in a rush and I plan to let them set the pace and rabbit trail if necessary. At this time, we are currently studying Venus!
In our home, we have a pretty substantial child library of astronomy themed books (another blog post on that is in my draft folder!) and thus after we spend some time listening to the text and responding in the journals we read an introduced topic in our children's books. We also just added the appropriate window decal to our dining room wall for Venus right up there next to Mercury. It prompts discussions at every meal and the Enginerd is getting an ear-full of what we are learning from temperatures to terraform, historical astronomers, and more.
After we first started studying the topic of astronomy we took a family trip to Huntsville, Alabama and enhanced all of our learning from the book. As we started over again in the topics to go through the revamped introductory chapters and then on into the individual planets we have often been discussing our trip. Through the use of the Apologia Astronomy text, CD, journals, and the Exploring Creation Field Trip Journal my kiddos are making a record that they are able to look back upon already and remember new knowledge gained and refresh a memory of fascinating things beyond this world. (Make sure to head back and read my review of the Apologia Field Trip Journal!)
Not only has Apologia Astronomy inspired us to travel as a family to investigate further what we are learning in the book. But more recently, especially with the updated resources available on the login page (password and details provided in your book!) to websites and materials online we have been exploring and adventuring far away places from our own home! We may not travel often, but my kids are world explorers. They have started requesting space documentaries and have an overall thrill for everything cosmic related through their introduction from Apologia Astronomy.
This post contains affiliate links you can use to purchase the book. If you buy the book using that link, I will receive a small commission from the sale. Any blessings we receive go to helping our homeschool and grocery budgets!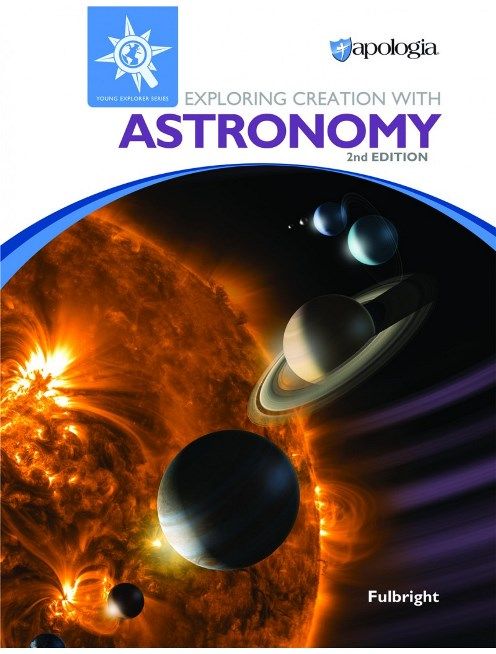 Exploring Creation: With Astronomy, 2nd ed.

by Jeannie Fulbright
Series: Exploring Creation #1


Find the Author:
Website
,
Twitter
,
Facebook
,
Pinterest
Narrator:
Jeannie Fulbright
Also in this series:
Exploring Creation Field Trip Journal
ISBN:
9781940110585
Genres:
Educational Resources
,
Science
on August 1st 2016
Format:
Hardcover
,
Audio CD
,
Spiral Bound
Buy from Publisher
Find on Goodreads
Using the classical and Charlotte Mason methods to give grammar students an introduction to our solar system and the universe that contains it. Narration and notebooking are used to encourage critical thinking, logical ordering, retention, and record keeping.
One of my favorite features of Jeannie Fulbright's writing in her text of Exploring Creation books for young explorers, especially the Astronomy is how my girls are learning to look at everything from God's creation perspective. Yes, they are excited to study Galileo and Copernicus and then they are relating their knowledge of ancient times to discuss how Christian beliefs would have been hard when science was full of so many more questions before our technology caught up a bit. They have discussed early settlers that would learn the constellations to tell the seasons with amazing structures such as stonehenge or even pyramids. My girls are relating history across the continents from ancient times to explorers and even modern day astronomy geeks and they are looking at those glimmering dots in the sky with new eyes (and even requesting we move further into the countryside for a better view!).
We recently went camping and the girls begged to bring our text and other manuals to identify constellations, and while we did leave the books at home, we visited a local planetarium during our camping trip to the Land Between the Lakes, Kentucky and they were thrilled to talk about all the things that the presenter mentioned that they had also heard in their books.
Something new!
The people at Apologia have been working hard developing an add-on Science Kit and it is just now available! While we have not gotten our hands on this, I have looked through the samples online and it looks to be just as exciting and just more extension of the fun already started in the new second edition of Apologia Exploring Creation with Astronomy!! Take a gander, it might be the perfect thing for your school this year.
Oh, and remember! If you do decide to purchase directly from Apologia, use my affiliate link and help bless the Creative Madness Mama family. –> http://www.apologia.com/168-astrono?ref=16067

Hashtags: #hsreviews #apologia #astronomy #homeschoolscience


Related Posts