When I was in high school I took French language lessons. I took Spanish too, but French was where my heart was at. This is the year where I am so delighted to start teaching my girls, but especially my oldest the French Language. One of the materials we are spending time with is 
Getting Started with French
 from Armfield Academic Press. From what we have seen so far this seems to be a great gentle introduction to learning the French language for any age.
When I first started going through the book I got a very familiar vibe with a particular English grammar curriculum I've used in the past. Scripted, day by day, one page per day and minimum tasks at a time. It was a good feeling. For the purposes of this review, we received an approximately 8×11″ perfect bound paperback book with a vibrant blue and red cover. However, there are online materials such as MP3 pronounciation tracks and author commentary files available to us as well.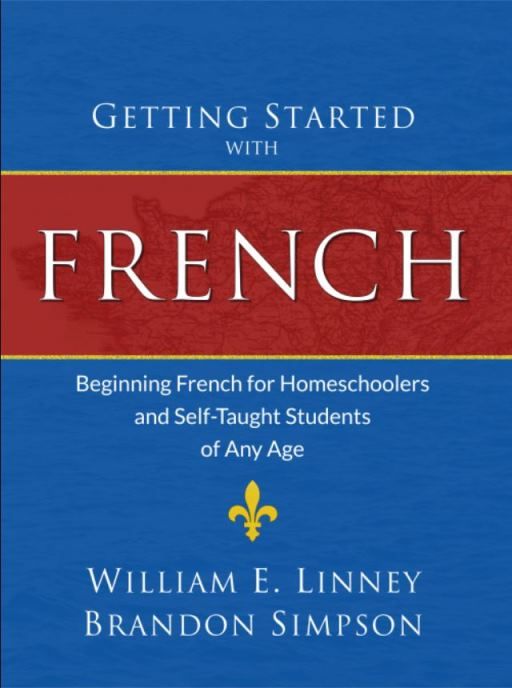 Getting Started with French: Beginning French for Homeschoolers and Self-Taught Students of Any Age

by William Ernest Linney, Brandon Simpson
Series: Getting Started with Language #3


ISBN:
1626110050
Genres:
Educational Resources
,
Foreign Language
Published by
Armfield Academic Press
on September 1st 2015
Pages:
294
Format:
Paperback
,
8x11" paperback
Buy from Publisher
Find on Goodreads
The big question is: What's preventing you from teaching French in your homeschool or learning it on your own? If you're hesitant because you've never studied French, desire a gentle approach, or just don't know where to begin, then Getting Started with French is worth trying for you. Specifically designed to go beyond these types of difficulties, Getting Started with French is given into simple lessons that explain the basics of French grammar in a way that anyone can obtain. Systematic and gentle, a student can immediately apply what is learned by translating the short exercises at the end of each lesson.
Getting Stared With French: Beginning French for Homeschoolers and Self-Taught Students of Any Age beings with a thorough introduction about the purposes behind the start of the series of Getting Started with… Language books. Also in this series, includes other instruction books for the languages of Latin and Spanish. It is also my understanding that Russian book is in the works to come soon as well!
In our daily school life, we have quite a scholastic setting going on with many topics that we want to spend time on. We want to add in a foreign language, but sometimes time just fights with us for space. This is one of the reasons that I like Getting Started with French. As we started to get into the lessons in this book, the introductory lessons are fairly short and only took mere minutes to complete. As we continue, lessons have gotten a bit longer. Right now, we average about 15 minutes to a lesson. (Looking ahead, with my teacher mind, I believe later lessons will probably take about 30 minutes or so.) This short but sweet attempt at adding in a splash of French learning to our schedule has worked well. It has intrigued my children, especially my oldest child and she is often begging to do more or another lesson.
What I have found, is that Getting Started with French is a gently primer that truly helps in getting started with a new concept and new language. I would be eager to see the other languages in their series. From my primary and grammar age students, to even an adult perspective of a student I see merit in this book and wouldn't hesitate to recommend it. It is not a text book with crazy complications, but a language primer broken down into short, bit by bit lessons with each day the student having a better comprehension and larger knowledge of the language being learned. I have really liked that we can make it our. On some days, we do the lesson per the book and that is that. On other days we take it further and have fun with it in a deeper and longer time period sense. We have done a lesson, and then watched a children's classic movie on a French dubbed track. Little words have made it into the girls vocabulary in a daily life and they like to show off to their Enginerd daddy that they are world travelers when it comes to books and their new knowledge. We are also enjoying adding in a few geography and history readers to our reading time with a French flair. As studying the language, has given a better sense into a new and different culture in a different part of the world from where we live.
Hashtags: #hsreviews #homeschoolforeignlanguage #foreignlanguage #frenchcurriculum


Related Posts