After my daughter became a proficient reader and speller I decided to try to open an email account for her. I look at several different options and finally settled on one program and it was great for a while until changes were made, thus recently I have started looking again. Blessed be the timing that the Homeschool Review Crew had an opportunity to review an Annual Subscription from KidsEmail.org !
Our purposes in having an email address for my children is primarily for communication with their grandparents and other family and select friends. Using KidsEmail.org, I have set up email accounts for each of my three children. My toddler has not used his, my 5-year-old has drawn pictures and sent them to Grandmama, and my 7-year-old is communicating with the world! Nah, truthfully she is emailing her grandparents, parents, aunts and uncles, and a few of mama's friends with one friend of her own on her approved contact list.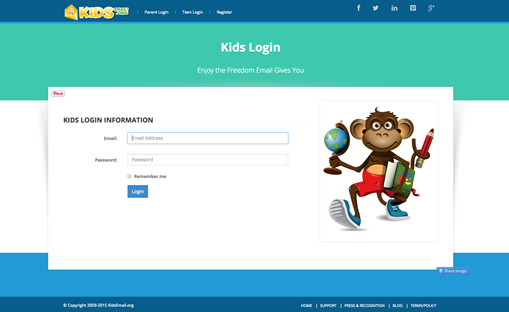 What is it?
KidsEmail.org is a web-based email program. There are so many features to protect my children and many options for making it the best experience possible. My two younger children are set up with the plain basic options for younger children. My third grader is using the kid's settings which gives her a few more options. Each child is able to choose their own template. The Safety Settings make me so happy! I can block or allow things such as attachments and hyperlinks as well as monitor what is sent and received. All this is in addition to being able to sensor possible send/receive contacts.
How are we using it?
Mostly, I have a bookmarklet in my daughter's moderated Chrome browser where I have added the domains for kidsemail.com and kidsemail.org to the allowed list. Here she can click on the bookmark and using her username and password we set up she can login and access her account. For a bit, I had set her up with a teen access, which can be logged in from kmail.org, but it was too many features for her.  We also have downloaded the app to our Kindle Fire as well. We were not successful on using it on our Kindle yet, but I haven't given up. We mostly access it via a laptop running Windows 8.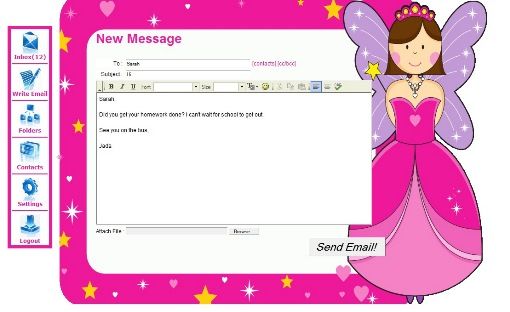 Overall thoughts??
Sometimes, review products are neat, but not quite for us. Well, this time I can tell you that KidsEmail.org is awesome for our family at this point in our safety settings for children online activities. While our use of KidsEmail.org started out as a reach of communication between my daughter and her grandparents it has become more than that. My daughter is able to email her Enginerd daddy through out the day if a thought or desire comes about. She has also emailed her siblings little stories (that she later has to read aloud to them) and to me as well. Overall, in the end what I have discovered is my favorite feature is that she can email me school assignments and there is no, where did we put that paper?; this is amazing!
They each have a set particular contacts they can interact with. While I do not interact and approve messages before they send/receive to these people, I do see them as soon as they are sent, and thus I am fully aware of what is being said. There is also a queue, where membership emails to certain online learning sites can send updates. I can approve particular messages from the queue and do not have to give those senders open access. This is a great thing in my opinion. Not only for safety, but also for convince of keeping my kids from being overly friendly with the wrong email such as a no reply address and the like. There is also an Activity section in my parent portal dashboard where I can quickly look over any activity that my children have been up to in case I missed it coming through my own email inbox.
Most recently, I was able to email her a forwarded email when we got a delivery notification for a mail order subscription package she is expecting. She was able to email me a portion of a two-point expository paragraph that she is working on. My daughter has a straight communication with me and I am able to monitor it all along the way. What a blessing this program is turning out to be! Another incredible feature is curfew!! I have been able to set up the email curfew so that my children cannot access it when it is not appropriate to be on the computer and thus it is one more feature of safety that I am near when an email is sent and received as I was able to block out the hours of the night when they shouldn't be awake, much less out of bed and on a computer.
Every day that we play around with KidsEmail.org I have found another feature that I like and another reason why I think it to be worthwhile. In a perfect world, programs like this would be free forever, but KidsEmail.org has an understandable rate following a free trial period. At this point, I definitely recommend this program!
.
Connect with KidsEmail.org through Social Media Links:
Facebook: https://www.facebook.com/KidsEmail.org
Twitter: https://twitter.com/KidsEmail
Pinterest: https://www.pinterest.com/kidsemail1/
Google+: https://plus.google.com/+KidsemailOrg
Instagram: https://www.instagram.com/kidsemail/
Hashtags: #hsreviews #kidsemail #emailforkids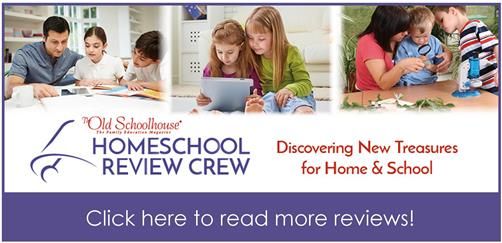 Related Posts