Languages have always been something of a dream desire for me that has not gone too far, however, my oldest student seems to share this desire and is eager to start our adventures with the Hey, Andrew! Teach Me Some Greek! – Level 2 Set from Greek 'n' Stuff! In my elementary school years, I had a bit of Spanish. While in middle school, I had a short Latin course. In high school, I studied French for years under the instruction of a French Canadian trained speaker. In college, I continued to study both French and Spanish. It was not until later years, that I really had a desire to add Greek study.
In recent months, I have started testing the waters with some different curricula options myself for studying Greek. However, the materials that I have started experimenting with are not for young students. They are more for well established older students with a good founding on English grammar and Latin language. When I stumbled upon the opportunity to review Hey, Andrew! Teach Me Some Greek! I was extremely intrigued because the idea of including my daughter in these studies with me is very pleasant.
This year (and last) in our history, or specifically Classical Studies we are spending in depth time studying Greek Myths as well as the New Testament, Greece, and Rome era of ancient history. I have found this to be a perfect time to start including a bit of Greek language into our studies. While my daughter has a partial introduction to the Latin language, it was not necessary for jumping into Hey, Andrew! Teach Me Some Greek!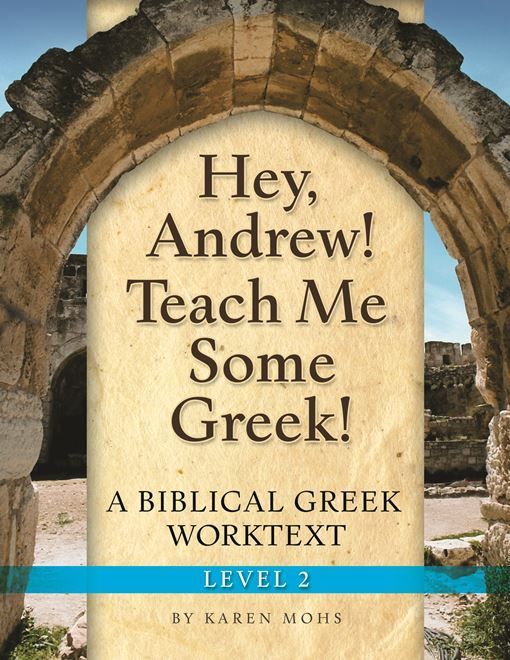 What we received…
In a very fast package, we received a durable and attractive spiral bound Level 2 Student Worktext, an audio CD, and a small durable Answer Key. I have later come to realize that another option of a Full Worktext with Answer Key overlaid is also available if that is the teaching preference. The Answer Key completely meets our needs, but I think the idea of the, what I would call Teacher Guide, is very appealing as we could work and correct together without having to share the student guide (Worktext).
After flipping through the Worktext and having my daughter start the first few pages, we decided that I should get my own Worktext and see about jumping in this journey along with her. I was able to add a Student Worktext for Level 1 (for my about to be six, about to start first grade student), Student Worktext for Level 2 for myself, and even happened to get my hands on a used Student Worktext for Level 3 to peruse and see if we may actually continue our studies with this program. We are that eager after a day of use!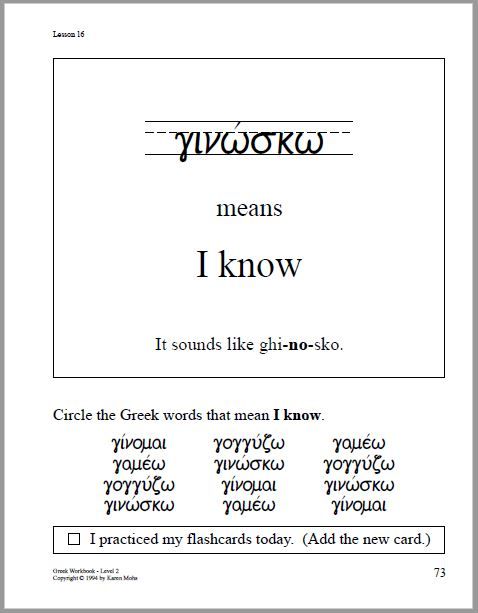 Greek Level 2 is good for students as young as 2nd grade.  Level 3 is a good place for older beginners to start.  The first couple lessons (weeks) of Level 3 teach the alphabet at a pace of three letters per day.  Level 3 then goes on to start slowly teaching vocabulary.  Greek 'n' Stuff recommends Level 3 as a good starting place for 4th grade and up.
The way our Level 2 Worktext is set up, there are five assignments for the first lesson, making it where we could either do an assignment per day or stack them up a bit. So far, my daughter is opting to do two days in a day.
I am having some issues with uploading photos, but I will tell you that I am finding this to be a vibrant curriculum choice. While the worktext itself is black and white, with the installment of color every few pages makes it vividly interesting in a rainbow spectrum.
Truly, I am so excited that I found this curriculum. While I always wanted to learn Greek eventually, I just assumed it would be a hassling work that we would fit in eventually. Yet, with myself working on Level 2 I am finding it a bit addicting as I keep wanting to do one more page, and then one more page. My daughter is still keeping on with her lessons as well at a slower pace. Never is there an argument when I ask her to do a lesson of Greek. She often will even remind me to get out our books for a lesson or two.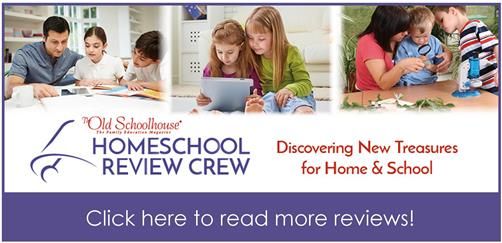 Connect with Greek 'n' Stuff on Social Media Links: 
Facebook:  https://www.facebook.com/GreeknStuff/         https://www.facebook.com/groups/heyandrewteachmesomegreek/
Twitter:  https://twitter.com/GreeknStuff Tag:   @GreeknStuff
Pinterest: https://www.pinterest.com/kuriakos/greek-n-stuff/
Instagram:  https://www.instagram.com/karenmohs/ Tag:   @karenmohs
#hsreviews
#greek
#greeknstuff

Related Posts