I love science and science is a big part of my own educational background. In our homeschool we are still finding our path with regards to science plans and Apologia Educational Ministries is a very important participant in that journey. Through the blessing of the Homeschool Review Crew, I found myself ecstatic to jump into the opportunity to review Apologia's latest update to the Marine Biology 2nd Edition Advantage Set including the textbook, solutions, and student notebook journal. We also were given a bonus of the Marine Biology 2nd Edition Audio CD, read by Marissa Leinart. Homeschool Marine Biology from Apologia is exciting and an instant favorite for my science bookshelf!
What I received
For the purposes of this review, I received a beautiful 557-page full-color hardcover textbook, a perfect-bound 8×11″ paperback black and white solutions and tests manual, an additional test booklet, a large 505-page color student spiral notebook journal, and an audio MP3 CD with the full textbook read aloud. I started this review with the intent of working through the Marine Biology course myself as my students are still in the elementary set.
Just for a little background about myself, I will let you know that I have an Associates Degree in Pre-Nursing and some post-baccalaureate education in the science field as well (again specializing in nursing) and this has given me quite a few years of Biology courses under my educational belt. I had the typical sciences in a public high school education until my senior year when I took a special Human Anatomy course that opened my eyes to a love of advanced sciences.
Advanced High School Creation-Based Science Course
Exploring Creation with Marine Biology 2ed is written as an advanced high school course guiding a student to study independently toward concept mastery. The textbook is full-color with inset pictures and illustrations, while the images are not large they are of an appropriate size for learning and viewing the concept being addressed. As I worked through the first two modules (basically units or chapters) I reviewed concepts of geography in regards to the world's oceans and basic life structure from atoms and cells all the way to classifications of Kingdoms and so on. While this course has a prerequisite of biology, the beginnings of this text make up a good clarity review on the material as well.
Exploring Creation with Marine Biology 2ed

by Sherri Seligson
Series: Exploring Creation Science


Narrator:
Marissa Leinart
ISBN:
9781940110950
Genres:
Homeschool Textbook
,
Science
on July 2017
Pages:
557
Format:
Hardcover
,
Audio CD
,
Spiral Bound
Source:
Homeschool Review Crew
Buy from Publisher
This newly updated and even more user-friendly second edition of the Exploring Creation with Marine Biology text from the Exploring Creation Science series of Apologia Educational Ministries written by Sherri Seligson is an award-winning high school homeschool college preparatory curriculum.
How I am using these materials
Not long ago, we started a journey in Astronomy, however, when this box arrived my girls and I decided to take a space hiatus and jump into Swimming Creatures which had been sitting ready on our shelf. Each of my girls has a Junior Notebooking Journal to go along with Apologia's elementary Exploring Creations with Swimming Creatures textbook. During the day, we all work together, but let me back up.
I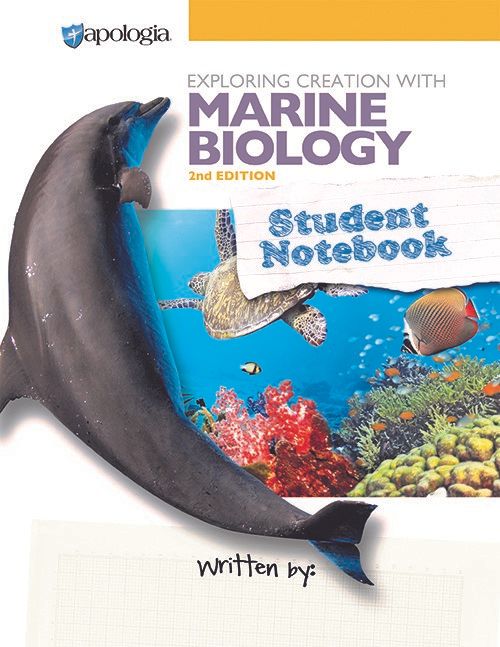 n the evening, while the Enginerd is nearby either reading or watching TV, I sit in my green chair and read the text assigned and take notes in the student notebook. In my educational past, I took notes in my text and highlighted them, so it is a healthy change for me to leave my text crisp and clean and take all my notes in a notebook of its own (especially as I want this book to be available for all my children's high school education). I love that the student notebook is so durable and has a beautiful matching course cover. Sure, I could use a regular spiral or ten to take my notes, but I love the formatting of this student notebook. For myself, I find I am working a little bit faster than assigned in the schedule provided in the front of the student notebook, however I am not working on it quite every day.
During the next day, I read aloud from Jeannie Fulbright's Swimming Creatures of the Fifth Day to my girls as they color in their Junior Notebooking Journals. Then I put on my Audio Book MP3 CD of Exploring Creation with Marine Biology 2ed and listen to the section that I read the night or so previously. While we all listen, the girls work on their assigned notebooking journal pages in the elementary schools' Exploring Creation with Swimming Creatures and I add to my notes anything that stands out and then continue forward in my module working on the On Your Own questions, study guide, and eventually the test for that segment.
When it comes to audio tracks for books I am always a little uneasy at first because some narrators really are the wrong choice, but overall we all found ourselves to enjoy listening to Marissa Leinart. She did a good job going through and reading the appropriate portions of the text with appealing pronunciation and is very good to listen to. I found that a few times while listening to her read through text that I had already read and taken a few notes on sometimes another new bit would present itself to me that it also note-taking worthy. I do not yet know what type of learners my young students are, but I know that I am a combination of audio and visual and the addition of the MP3 Audio Book is very appealing to me in this course of study. If only such things had been available years ago.
In addition to listening to the Audio MP3 CD we also continued to read and watch films (movies and documentaries) on sea and ocean life. The girls are loving the fact that their mama is studying the same topic as they are and that we can discuss the different ways we are learning similar things. I think that this would much be the same in a family if you had olders and youngers both on the same topic. Apologia has the topic covered from the youngest students and even to the oldest.
We are loving taking the narrative approach from the textbook into the rest of our study day as we get to see the same creatures we read about in a book come to life on the TV or computer screen. We are even talking about out past adventures to the Tennessee Aquarium and how if we were blessed with the time and finances to go again, which creatures we would hope to see in our journey.
I'm inserting quite a few pictures below and made a collage of several as I'm working through. I left the collage image quite large, and it should maximize in size if you click on it. I purposely did not take interior pictures of the Solutions and Tests, but I believe you can see previews of these on the Apologia website.
In my student notebook, I have a durable and flexible page tab stuck to page 13 which is the beginning of a recommended daily schedule. There is a square in each corner, where I mark the date, and at the bottom of each corner I place a check once I have completed the recommended area. I love the color coding where each Module is changed from grey to yellow to blue to purple to grey and so on. This format makes it very easy to plan and see at a visual glance what is coming up and how much time is left to plan for as I go along in my studies. There is even a rubric for those so inclined to grade the course.
Within the textbook, they have printed the experiments on pages with a visual graphic of graph paper and a different handwriting type font and I love this. I think it makes it stand out as a separate activity and helps to get the student into the mindset of working on a lab. While it is entirely possible for a student to use the textbook without the student notebook, I really really recommend the student notebook. They go together so well and are created wonderfully to enhance each other. In the back of the student notebook there is a separate lab section, aside from the section for taking notes. While I do tab my pages for easily thumb reference, they have put a color to the edge which also makes it easy to see where this section is at a glance.
In the lab section of the notebook there is the visual reference of graph paper as well as pictures showing step by step how to go through a lab. These same, or very similar pictures are also found within the textbook in respect allowing a student to read it, experience it, and read it again getting it really into their knowledge base (see middle top image in the collage below).
The illustrations throughout the text book are clear and vivid to look at.
While the dolphin photo does make an appearance at the beginning of each chapter or module the other images through out really enhance the topic and bring a visual understanding to what is being talked about in the chapter narrative.
Important terms are some times found to be bolded within the paragraphs, and at others are pulled out and a glossary term is defined right in the middle of view.
I recall from old textbooks and studying that I may read through the text once and then answer questions or take notes. With the tools given with the use of the student notebook, it will be near impossible for your student not to learn. The way things are broken up it is not ad-nauseam, yet given in bites that are easily added to ones memory banks and they learn more and more.
There is a highly organized note taking space for each module. While the open note taking space is designed in a Corneal Method (new to me, but intriguing) the student really could use it in any way that makes the most sense to them. There is a journal space for thinking thoughts at the end of the note-taking space and then a section for what is called OYO (On Your Own Questions) which for me translates to what I have come to know as narration ques. After this is an area for Study Guide Questions including a Glossary definition section to fill out. This is met with an Optional Summary of Module which is a fill in the blank segment. All of these different pieces make it where a student can do them all or use the ones that aid their learning style the best.
Final thoughts
There are so many elements to the Exploring Creation with Marine Biology 2nd Edition material that make it very easy to learn. It is created beautifully and durably which excite this school supply loving mama. The MP3 Audio Book is an excellent addition that helps with focus and really reiterates things that are already soaking in. The textbook is gorgeous and the student notebook is a helper guide that really embraces the fullness of learning that can be mastered with this course. The Solutions and Tests book (as well as separate test packet) are very straight forward and make it very easy to keep a record of what has indeed become a mastered subject for the student.
I have known that I have enjoyed the older Young Explorer Series books, and have started to collect some of the older Exploring Creation books such as Human Body and Physical Science for I know that when we get there these are resources I absolutely want to use. Now I am delighted with my experience thus far with the Exploring Creation with Marine Biology 2nd Edition. The only bit I'm missing is the optional instructional DVD and if budget allows I would add that to our homeschool in a heartbeat!
*Through out this review post there are many links, several of which are affiliate links for Apologia, an incredible homeschool company. When you do decide to buy, use our links and bless our family to allow us to go back and get more great resources!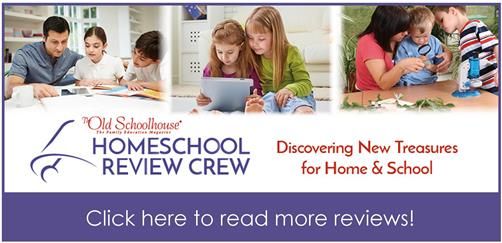 Connect with Apologia through Social Media Links:
Facebook:  www.facebook.com/apologiaworld
Instagram:  www.instagram.com/apologiaworld   @apologiaworld
Twitter: www.twitter.com/apologiaworld   @apologiaworld
Pinterest: https://www.pinterest.com/apologia/
#hsreviews #MarineBio #homeschoolBiology

Related Posts