We have fast come to love anything we get our hands on from the wonderful people at The Pencil Grip, Inc. and that holds true again with our latest discovery of Thin Stix Creativity Pack. We are so blessed to receive a 24-color pack to add to our art supplies for review.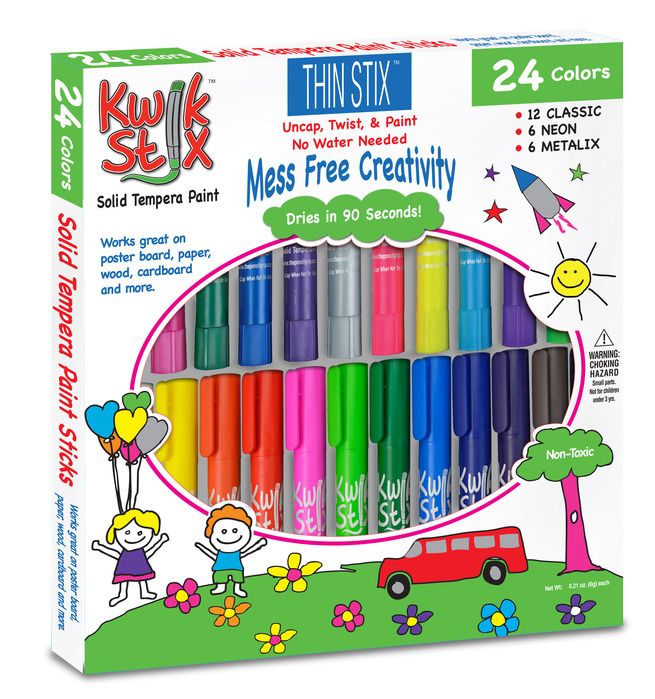 Today's review post is a little bit different. I'm going to insert a short (less than five minutes) video to show you our set and some examples of art works that my girls have produced with it. The links included (above) are not affiliate links as were mentioned in
my previous post
, but a different store to show what all is available as requested by the wonderful vendor. Oh and while I'm on the past mentionings, don't forget to check my review of
The Pencil Grip
.
Now, back to it!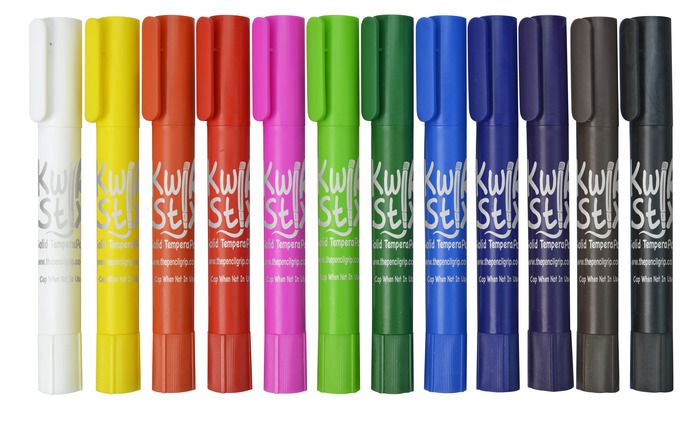 Kwik Stix are amazing. We love our little set and to be able to add so many more colors in a 24-color pack is just thrilling. All of my kids are delighted and want to use them every day all day!
So here's that photo I mentioned.
Amazing, right?!
While we were fine with the Classic Colors and totally appreciate that set, we feel so spoiled after exposure to the complete mess free Thin Stix Creativity Pack. We received the pack during an off school week. So the art I showed was from their ideas of getting ready for Halloween and wishful thinking of a weekend fishing trip with their Enginerd daddy.
We have mostly been using regular printer paper (as it is what is most available on hand), but my girls have also experimentied with drawing on wood and cardboard. This tempera paint holds so well to all of our choice surfaces, and yet cleans so well from our Corian countertops that I'm really not concerned even when the three-year-old gets involved in projects as well.
The additional Classic Colors are great, the bonus of Neon Colors make a great sunny grass scene, and the Metalix Colors make an awesome sparkly appearance and details for things such as a spider's web! I just know these will make great parts of ornaments for decorating a Christmas Tree in a few weeks and the bold oranges and browns will make a great turkey too in the meantime!
I want my kids to be able to have art at their leisure, but I really dread the clean up or ruining of their surroundings with typical art supplies. We've gone outside in the past, but some days (baby in arms or whatever the excuse is) I just cannot manage to get us out where painting would be appropriate or the weather isn't right. The Pencil Grip, Inc. presentation of Kwik Stix and especially the Thin Stix has been amazing to our family and has truly changed our experience with art adding in to our lessons.
It may seem silly, but this non-toxic, mess free art product of solid tempera paint has truly changed our daily look on including art and we are all in this family truly grateful. Mama needed this, and so did the kids. After all, I share, most of the time.
You're jealous, right?
If you would like a chance to win yourself a set, comment on this blog post. Tell me why you want a set, and what art shenanigans you plan to get up to. Entries end, in one week (November 15th, 2017). All the typical giveaway bits apply. US only, 18 and up. Play nice. 🙂

Connect with The Pencil Grip, Inc. on Social Media Links for Pencil Grip: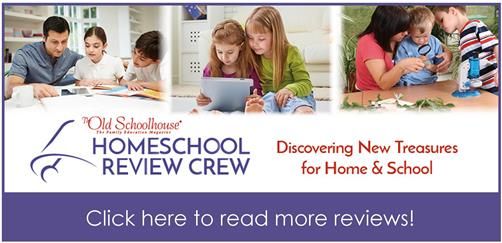 Related Posts